First Class
Thinking of 'Odette'-ravaged communities
And just like that … Christmas 2021 is Christmas past.
On Friday, we say goodbye to this challenging year and come midnight, we welcome 2022.
2021 has been incredibly tough. Beyond COVID-19 and its casualties, Typhoon "Odette" (international name: Rai) was especially harsh.
In the aftermath of the typhoon, Gai Olivares of Siargao posted on her wall: "Don't dream it's over. Don't dream. It's over." This copy was juxtaposed against photos of damage to her iconic residence.
The Wow Siargao Travel and Tours group (2wowsiargaotravelandtours) posted a photo of a big tarpaulin with a handwritten S.O.S., "We need food" alongside photos of the destruction from the typhoon.
Over in Leyte, Fr. Johnrey Sibi sent photos of the Maasin Cathedral with its roof also blown away. A cathedral. That's how strong the winds were.
Over in Cebu, another photo with a frantic sign said, "Tubig! Pagkaon! (Water! Food!) Please help us." Fr. Mhar Balili in Cebu also shared photos from his visit to his parishioners in the mountainous areas, including one of a casket. It was for a child who died when a tree fell on their house, the wake just held on the street.
In many places, even as of this writing, residents are still in desperate need of water and food. So may I dedicate today's column to join the call for help for all those affected by Typhoon Odette. After all, it's a half-hearted holiday when we don't all celebrate together!
Caritas Manila
Here is the message of Fr. Anton Pascual, executive director of Caritas Manila:
"Pax et Bonum. Caritas Manila, Inc., through its Damayan Program, is appealing for your prayers and donations for our brothers and sisters severely affected by Typhoon #OdetterPH. Here are the dioceses severely affected based on the initial impact: Surigao (especially Dinagat and Siargao Island); Cagayan de Oro; Cebu; Tagbilaran and Talibon, Bohol; Maasin; Kabangkalan; Puerto Princesa; Taytay, Palawan; Romblon; Dumaguete.
"Where will your donations go? Manna Food Bags, shelter materials/tents, water, medicines and hygiene items, batteries and flash lights, portable gen set, solar lamps, chainsaw and cutting equipment."
Here are the details how to donate to Caritas Manila:
Savings Account Name: Caritas Manila, Inc.
(1) Banco De Oro. Savings Account No.: 000-5600-45905. Swift Code: BNORPHMM
(2) Bank of the Philippine Islands. Peso Savings Account No.: 3063-5357-01. Dollar Savings Account No. 3064-0033-55. Swift Code: BOPIPHMM.
(3) Metrobank. Savings Account No.: 175-3-17506954-3. Swift Code: MBTCPHMM
(4) RCBC. Savings Account No.: 3000-9022-16
(5) To donate via debit or credit cards, visit www.caritasmanila.org.ph/caritasmanila; choose "Caritas Damayan-Typhoon Odette."
(6) To donate via Lazada, go to www.lazada.com.ph/shop/caritas-manila and choose from the donation vouchers.
(7) To donate via Give2Asia, go to www.bit.ly/Give2CaritasManila and choose Damayan
(8) To donate via PayPal powered by StockCrowd, go to www.caritasmanila.org.ph/reliefoperations/landing-original.html.
(9) To donate via GCash, GrabPay, Shopee and PayMaya, scan the QR code at caritasmanila.org.ph/donate-1
"For proper acknowledgment of your donations, kindly fax a copy of the deposit slip to 8563-9306 or email a scanned copy to [email protected] Please indicate your name and address. For more inquiries, you may dial 8562-0020 to 25 local 118, 139, 135, or 0917-5955083."
Caritas Manila is hoping to raise P50 million for typhoon victims. As of this writing, they have already distributed P10 million worth of relief goods to the affected areas.
Philippine Red Cross Hot Meals on Wheels
The Red Cross has also been hard at work supplying food and water to Odette victims. It created a food truck called Hot Meals on Wheels #PRCHotMealsOnWheels that travels to the different provinces affected by the typhoon.
Eight trucks are currently making the rounds, distributing hot meals in Surigao, Southern Leyte, Bohol, Cebu, Capiz, Iloilo and Bacolod.
Another program they have seeks to supply water, called Water and Sanitation Hygiene (Wash). As of Dec. 23, the Red Cross had already distributed a total of 200,600 liters of water through water tankers deployed in Negros Occidental, Cebu, Bohol, Surigao and other affected provinces. The goal is to provide safe and clean water to the most vulnerable members of the affected communities.
As of Dec. 23, the Philippine Red Cross had raised over P3 million for Odette assistance. To donate, visit the Facebook page of the Philippine Red Cross (Facebook.com/phredcross) for the QR codes and bank details.
Tanging Yaman Foundation
The Tanging Yaman Foundation successfully sent 30 tons worth of relief goods to Siargao with the help of the Philippine Navy on Dec. 21. You can still donate for the next batch. They are targeting to send this time to more areas: Cebu, Leyte, Bohol, Surigao, Siargao, Dinagat Islands, Cagayan de Oro, Negros and Palawan. They are accepting donations of bottled water, canned goods, instant noodles and rice. For the QR codes for donations, visit the Facebook page of Tanging Yaman Foundation (facebook.com/tangingyamanofficial). To drop off goods, go to the Ateneo de Manila University covered court, open from Dec. 26 to Dec. 29 from 8 a.m to 5 p.m. and look for Mike 0919-2565336 or Lauro 0920-8926909.
Puerto Princesa
One of the places that was badly hit but has not been given much attention is Puerto Princesa. Let's show this top tourist destination with the country's best lobster some love. To donate, deposit to the Apostlic Vicariate of Puerto Princesa. Account Name: Vicar Apostolic of Puerto Princesa Inc. Metrobank Account No. 576-7-576-008216.
Another area that was badly hit was Leyte. You can donate to the Diocese of Maasin through the Diocesan Social Action Center of Maasin, which sends relief to communities through its parishes. (BDO Account Name: Roman Catholic Bishop of Maasin. BDO Account Number: 00613-000-1443)
These are only some of the ways to help. There are many, many more. I hope you are able to find your way. Remember that the joy is in the giving!
A new year always signifies hope. May 2022 be a year of grace and abundance for us all! From all of us at Inquirer Business, Happy New Year!!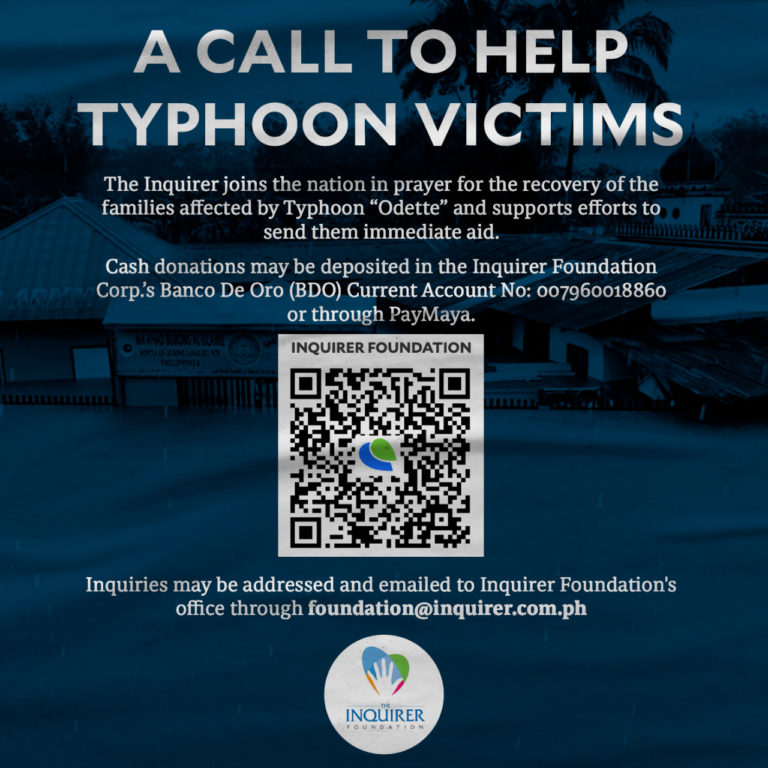 Subscribe to INQUIRER PLUS to get access to The Philippine Daily Inquirer & other 70+ titles, share up to 5 gadgets, listen to the news, download as early as 4am & share articles on social media. Call 896 6000.