In admiration, appreciation of great men
We often run to them for protection and advice. Their reassuring words are sometimes more than enough to help us get back on our feet and face whatever challenges may come our way.
These are the fathers and the father figures in our lives who take on multiple roles—a steady anchor, a teacher, a critic, a playmate, a colleague and a reassuring presence who makes us feel that no matter what comes, in the end, it will all be ok.
As we celebrate Father's Day this year, Inquirer Property pays homage to the masters of the house whose unwavering love, wisdom and kindness made them the real heroes in the real estate industry. Indeed, more than the success of the companies they have helped build and the institutions they are running, it is their being a father that makes them a true hero.
In remembrance of Dave
A message from Bernadette Romulo-Puyat
Secretary, Department of Tourism
I've been a widowed mom for 11 years. My children were 14 and 12 years old when their father suddenly passed away, and so they spent their teenage years growing up without a dad to give them advice on what to take up for college, what to do (or not to do) on dates or just tell them how proud he is of them. There were roles I had to take on or outsource to the wonderful people in my family, but there were also some things I couldn't do, like playing sports with them.
When I was an undersecretary at the Department of Agriculture, I was sent out on the field, literally, visiting farms, markets and cooperatives. Even when I started out in the Presidential Management Staff under former President Gloria Macapagal-Arroyo, work was 24/7. Government service took me everywhere, and so looking back, at least my children were able to spend more time with their dad.
Dave also worked full time, so I truly appreciated his support. He truly enjoyed spending time with the kids and being there for them on a daily basis. I believe Maia and Vito turned out the way they did—thoughtful, caring, and really, they were never any trouble—because of everything he gave them during their formative years. We grieved together as a family, we've grown together as a family, and I think he would be so proud of us.
Father's Day is always celebrated in remembrance of Dave.
My father, my inspiration
A story of his dad, as told by Mark Villar
Secretary, Department of Public Works and Highways
"Cool si papa, cool sya," Mark Villar said of his father during a recent chat with Inquirer.
"He's very open to suggestions, and our discussions are very animated. We share a lot of stories—masaya kwentuhan namin," added Mark, whose father is real estate magnate Manuel B. Villar Jr., named as the richest Filipino tycoon in Forbes Magazine's 2021 list of the wealthiest people on the planet.
But this is just one of the many things that the younger Villar admires about his father. The Secretary of the Department of Public Works and Highways said he has always looked up to his father, proud of him and everything that he's accomplished.
"He's always an inspiration to me. I always try to do my best to even try to follow in his footsteps. But my father, he's always been very careful not to put pressure on all of us. He just tells us kung ano na lang kaya—just do your best and that's more than enough. You know, he's been very consistent about that. I remember, even when I was young they would always say, 'You know Mark, do your best and don't worry. As long as you do your best, whatever happens after that, it's ok as long as you tried,'" Mark shared.Mark also admired his father for always teaching by example.
"He always practiced what he taught us. I think that's the best way to teach—by example. He was such a great example for us that I'd like to do the same for my daughter also—to really show and not just tell her what it's like to be a good person, to show her how it's like to work hard," he further shared.
So it's really no surprise that Mark, to this day, continues to consult with his dad, telling Inquirer that they have always been a team: "Whether it's for business or politics, I always look to my dad for advice and support, and he's always there for us."But if there's one trait that he admired most and would want to have is his father's perseverance.
"Regardless of what happens, you can always trust that he always gets through. Even during the hard times he gets back on immediately. His perseverance is amazing and that's something that is very important—the strength of character, the inner strength you should have. There's a lot of problems that arise and I think you really have to have that inner perseverance to get you through the tough times," Mark said.
My Dada, my great teacher, my Oppa
Letter for Vivencio B. Dizon
President and CEO, Bases Conversion and Development Authority
Dear Dada,
I hope you have a nice day. I know you are stressed with work, but I still want you to have a nice Father's Day. I thank you that you always take care of me and the family. I hope you won't always be stressed with work and keep calm while you work. I thank you that you work hard every day but I wish that I would be able to spend more time with you. I hope that on Father's Day you won't be too busy so that we can spend time together. I am happy that we get to spend time biking and watching movies together. Thank you for always teaching me when I have a hard time with my Math subjects. You are a great teacher, Dada. I know that you always tell Mama that you want to stay at home so you can spend time with me, but for now it is not possible. Thank you for sacrificing for us. I love you, Oppa!
Love,
Natalie
Paying homage to the best boss ever
Letters for Nestor J. Padilla
President, Rockwell Land Corp.
Hi kuya, Happy Father's Day! Sa 21 years ko sa pamilya niyo naging masaya ako at mga anak ko. Hindi kami naging iba sa inyo ni ate. You're the best boss. Salamat din sa pag-intindi sa lahat lahat. Thank you, kuya.
Love,
Mad
Happy Father's Day po, kuya! Thank you po sa pagtanggap niyo sa akin bilang isang empleyado niyo. Kahit ilang buwan pa lang ako dito, hindi ako naging iba sa inyo. Salamat po sa lahat, kuya—you're the best boss ever.
From,
Maimai
Hi kuya, Happy Father's Day po! Salamat po sa pagtanggap niyo sakin dito, at di ko po akalain magtatagal ako sa inyo. Napakabuti niyo po sa amin. Hindi po kami naging iba sa inyo. Salamat po ulit. Happy Father's Day again! You're the best boss.
Love,
Ella
Through and through a daddy's girl
Letter for Jose Soberano III
Chairman, President and CEO, Cebu Landmasters
Dear Dad,
It feels very strange writing you a personal letter—not a press release, a speech or a presentation. But I am grateful for this opportunity to express my gratitude and celebrate YOU, simply as my dad, which I haven't done in words in a very long time.
Ever since I was little up until now, I have always considered myself a daddy's girl. Not in the typical father-daughter relationship kind of way, but because of how you constantly and greatly influence my life like no one else. To me, your thoughts matter the most, your actions speak louder, your presence gives the most impact. And this is all because of how much I look up to you and the person you are. You have pushed and inspired me to do more and be more, simply by being you. And in these past two to three years when I finally came back home with a family of my own, I look up to you even more as my dad and as a person with the many more quality hours, weekends and dinners we spend together. I really appreciate you being a good father-in-law to Mathias, and a very sweet popsy to our kids Livia and Hugo.
Also speaking for my other siblings Franco, Jamie and Joby—we are so blessed to have a great man as a father. Not only are you wise, brilliant like what many know you are, but you are generous, Christ-centered, humble and a lot of fun. You are so many things rolled into one, shifting from chairman/CEO to hubby, to dad, to friend, to son, to popsy in a snap. It always amazes us how you do it and how you do everything so well.
And as the father of our extended family Cebu Landmasters, we want to truly thank you for being our leader. You have not only grown our organization in size, but you have nurtured a culture that we, your CLI employees, make us proud to be part of. Thank you for your open mind, your sharp insight, your big heart and your courage. But most of all, thank you for giving our career meaning and purpose and making CLI a great place to work.
With this, today we honor you, Dad. For the many more hats that you wear, for the multiple successes that you have been blessed with, while still being the same dad and person that we know. Thank you for being the BEST father to our family and our extended family Cebu Landmasters.
Happy Fathers day, Dad/JRS. We love you!
Your daughter,
Joanna
(Joanna Marie Soberano-Bergundthal is the senior vice president for marketing and human resource at Cebu Landmasters.)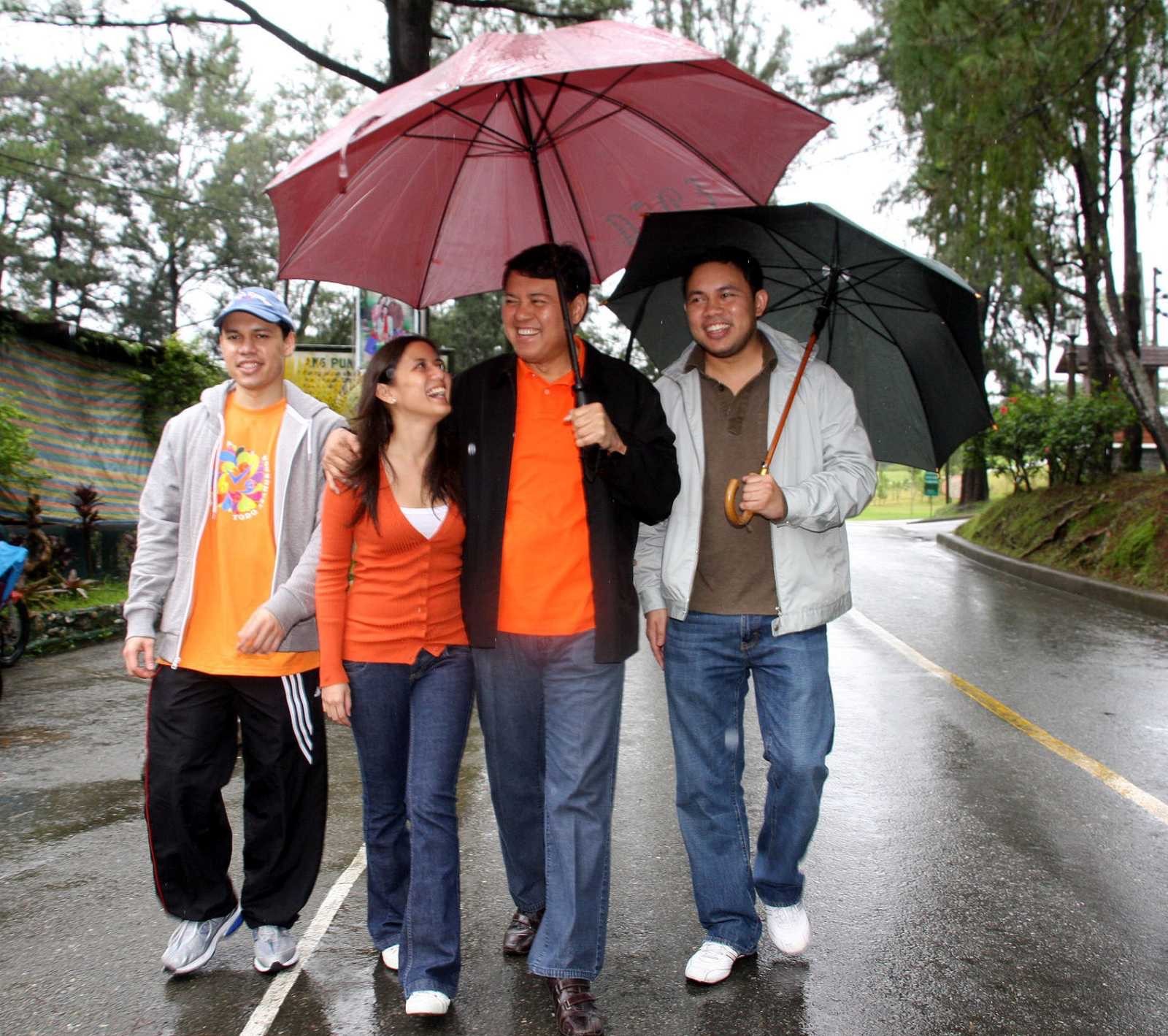 A father's greatest reward
Retelling the story of Manuel B. Villar Jr.
Chairman, Vista Land & Lifescapes
He is first and foremost a father.
Manuel B. Villar Jr.—a self-made billionaire, the "brown taipan" who built a thriving conglomerate from ground up—is not only a "cool" father to three highly accomplished children who have already made a mark in their respective fields. He also stands as the head of a family of companies that have not only provided quality jobs to thousands of employees across the country, but have more importantly offered a well-meaning opportunity for many Filipino families to realize their lifelong dream of owning a home.
Villar would however modestly point out that the title of a father, particularly when it comes to his companies, is not something he can simply claim as this should be "earned."
"I've always been viewed as the father of the Vista Group because I founded the company… But you cannot brag that you are a father to them. Only they (the employees) can say that—you have to wait for them to say that; you have to earn it; You have to ask our people whether they think I'm a good father of the company or not. Likewise, it's my children who can tell you whether I'm a good father or not, otherwise nambobola ka lang," Villar said in a chat with the Inquirer.
"But for me, I like them as my children… In the past, before the pandemic, I frequently travel with my officers. I bring 30 to 40 of them to the United States. It's a different batch every year—the only criteria is that they shouldn't have been to the US before. So I tour them personally, bring them to beautiful places in California and in the East Coast. Some I bring to Europe or to a cruise, I make sure that all the officers will get a chance," he explained.
Villar is currently chair of Vista Land and Landscapes Inc., one of the leading integrated property developers in the Philippines and the largest homebuilder in the country overall. Vista Land operates its residential and commercial property development business through six business units. Camella Homes, Communities Philippines, Crown Asia, Brittany and Vista Residences are focused on residential property development, while Vistamalls is involved in commercial property development.
"For me, they're really a family. I enjoy talking with them as much as I enjoy talking with my family," Villar added.
When it comes to his family, Villar further reveals a soft spot.
In fact, he calls his three children—Paolo, Mark and Camille—his "greatest reward, his main accomplishment" in life. Paolo is currently the president and CEO of Vista Land, Mark is the secretary of the Department of Public Works and Highways, while Camille is the lone district representative of Las Piñas City.
"It's not being dramatic. At the end of the day, I look at my three children—they are not perfect, but I'm very proud of them. Education and career wise, they're all ok, they're all doing well. I admire them," he said.
But what is more admirable is that the whole family has remained close, that even amid the pandemic, they all go out of their way to meet physically, even getting swab tests just to see each other safely.
"Hindi ako pakialamero, but we created a situation wherein they like being with each other… I could also sense their excitement of seeing us. They like to talk to us about politics, about business—we have so many things to talk about so all of us look forward to that time when we get together," Villar said. "We regularly do Zoom and we call each other often, even on Sundays. And they still come to us for advice. The bigger the responsibilities, the more often they call for consultation and strategies. I would like to think our children still look up to me and my wife that's why they like to always consult with us."
A father's comforting words to his ward
A message from Harry L. Paltongan
President, Suntrust Properties Inc.
Indeed, this pandemic has distanced us from each other. Our usual monthly assemblies, programs, Friday activity nights, extended sportsfests, summer outings, anniversary and Christmas parties, tree-planting and various charity trips all became things of the past.
We have tried to do things via Zoom and other digital channels to keep the embers glowing. Yet for some, the warmth did not suffice and hence opted to seek for better places. But like the father in the prodigal son, we wished them well and assured them that Suntrust will still be their home.
For many of you, you are enduring these difficulties with extraordinary patience and dedication. Like most fathers, our kids might not see our reassuring hands holding theirs in difficult times. Yet that is because we are holding them at their backs. The paramount burden of a father, for his immediate family, is to be a breadwinner, and for the company, is to ensure that this weathers the crisis so each employee keeps his job. In my mind then, I am comforted by the thought that your masks hide a smile of hope rather than one of desperation, fear or spite.
Indeed, the disruption in our lives seems unending. These protocols slowed down the ways of achieving our goals—especially the delivery of our obligations to our clients. Yet we are not stopping. Unfortunately, as that happens, we are further impeded sometimes, by news that one of us, or of a family got infected with the virus. We in fact also recently suffered a death from it.
I, too, was recently infected, yet known only to a few. It was also scary. As a father, I could only show calmness and give assurances that I was doing great for my immediate family and for Suntrust. Looking back, the most difficult aspect of an isolation is that gnawing solitude, mitigated only by unwavering faith.
Yet, in the worst of circumstances, the human spirit can always triumph. We accept the worst yet focus more on our blessings—which are too many. Hence, we live each moment with joy and gratitude. I was watching AGT's golden buzzer beater Ms. Jane Nightbirde, a terminal cancer survivor. She rightly said that: "You cannot wait until life is not hard anymore, before you decide to be happy." This, after she sang her original song, "It's Okay."
Fathers always know that no matter how tough we are, and our families are, we will always be hit hard in our lives. Yet what counts is about how much we can take and still keep moving forward. That's how victory is achieved.
Together, we will win.
Subscribe to INQUIRER PLUS to get access to The Philippine Daily Inquirer & other 70+ titles, share up to 5 gadgets, listen to the news, download as early as 4am & share articles on social media. Call 896 6000.