DA selling garlic from rolling stores as it probes price hike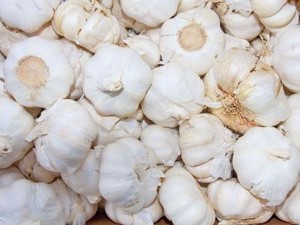 MANILA, Philippines—The Department of Agriculture (DA) has deployed two trucks as rolling stores to sell locally grown garlic as it looks into the possibility that unscrupulous traders are manipulating a price spike.
The rolling stores, carrying a total of six tons of garlic, were parked on Saturday at the public markets in the cities of Marikina and Pasig.
The garlic was sold in six-kilogram bags at wholesale prices ranging from P100 to P200 a kilo, depending on the size of the bulbs.
The DA's Agribusiness and Marketing Assistance Service (Amas) is coordinating with local government units to augment the supply of local garlic in major marketplaces.
Agriculture Undersecretary and DA spokesperson Emerson U. Palad said that the move was expected to help stabilize garlic prices since local supplies are cheaper.
DA market monitoring showed that the price of garlic shot up to as high as P300 a kilo for the imported variety and P180 per kilo for the local variety, prompting Agriculture Secretary Proceso J. Alcala to call for an investigation on why this was happening.
"Other [marketplaces] still have an inventory of the more expensive imported garlic, thus, they are unable to sell the commodity to follow the trend [for local garlic]," Palad said.
He called on consumers to patronize locally grown garlic and help lower prices as well as support local farmers.
The DA is currently reviewing the resolutions submitted last week by the National Garlic Action Team, which are meant to ensure that if additional garlic importation is needed, the "correct volume will be imported at the right time" to avoid competition with local farmers during harvest time.
Palad said additional guidelines for the accreditation and issuance of import permits for garlic are being crafted to ensure that these would be helpful to local farmers.
Earlier this month, the Amas coordinated with producers' cooperatives in Ilocos, Mindoro, Nueva Vizcaya and Batanes to bring to market 435 tons of garlic.
RELATED STORIES
50,000 kilos of smuggled garlic seized in Batangas port

P6M worth of onions, garlic seized