The never-ending learning of periquet
Education in design is a never ending process.
Thus is the belief of seasoned interior designer Alexander "Ogie" Periquet, whose accidental love for the craft allowed him to eventually make a mark, and gain the respect of the people from this industry.
"Some would say interior design is an art, others consider it as a science that enhances the interiors and the overall look of a particular development. But in reality, interior design is so broad that it's actually a never ending learning process. With interior design, the arrival of every new client means or signals new insights," Periquet said.
Periquet recalled that he became interested in fine arts as he had many friends enrolled in the same course. But arriving late for enrollment, he was advised by a cousin to instead enroll at design school Cancio-Calma in Pasong Tamo.
"So I really went to interior design by accident. When I went to Cancio-Calma, I got to work with a lot of foreign students, giving me a broad perspective of the course. From there, I learned to do freehand drawing and many other things. Our class eventually had an exhibit where I met my first client who asked me to design his condominium unit," Periquet shared.
"I got pretty excited when I got that offer so I asked my professor for help and she willingly guided me and provided me with the necessary contacts. After three months of doing non-stop work, I ended up having a car and immersing myself in the world of interior design," Periquet added.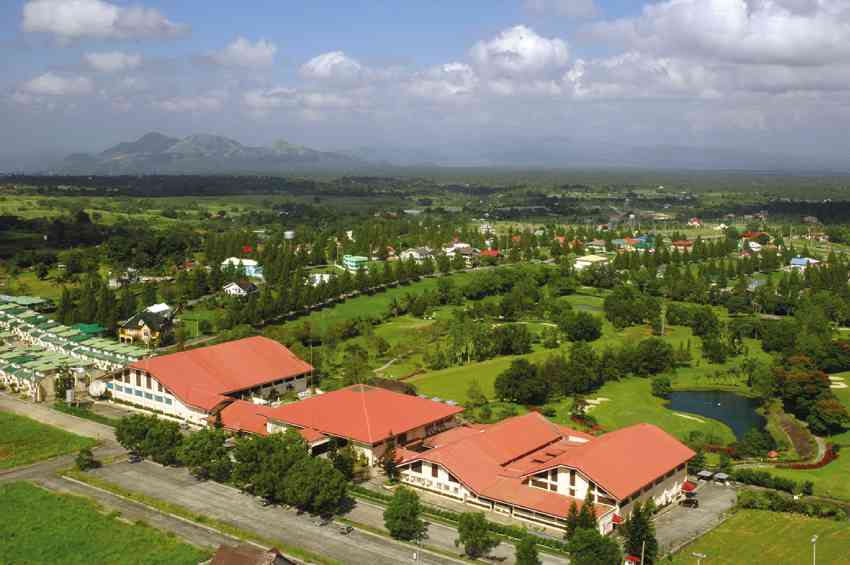 Mentors and learnings
Along the way, Periquet met individuals whom he considered as mentors, and those whose ideas and tastes made quite an impression on him, including the late Larry J Cruz.
"My first clients were mostly from the hospitality business such as restaurants and that's where I met Larry Cruz from whom I have learned a lot… And then I tried to learn about arts and design, from Oriental to European and of course, our own Filipino style which I truly love," Periquet explained.
"Doing work for different clients also allowed me to meet and collaborate with some of the most respected names in the industry including Arch. William Coscolluela and Sta. Lucia Land Inc. (SLLI) president Exequiel Robles," he added.
According to Periquet, working with Coscolluela for various Sta. Lucia projects allowed him to create and build a good relationship with Robles.
"My working relationship with Sta. Lucia and Mr. Robles go way back and I think it has been more than two decades of great partnership for a number of projects starting with Royale Tagaytay," Periquet shared.
Memorable project
After doing the interiors of the Royale Tagaytay Golf Club, Periquet was then asked to work on another project—the Orchard Golf and Country Club. What made this special for Periquet was the fact that it was chosen as the official venue of the 1995 Johnnie Walker Classic golf tournament.
"Royale Tagaytay was done with a lot of wood, and had that Mediterranean feel but we infused a bit of Filipino details so it was very homey just like an old hacienda. But it was for Orchard that my passion for design was really awakened. This was after Arch. Coscolluela told me that I have chance of making it really good because the Johnnie Walker Classic International group was scouting around the whole Philippines for a venue where they could hold their event," Periquet recalled.
"For Orchard, we made use of materials that came from a church in Pangasinan that was being demolished. We got hold of the old bricks, mixed it with some molave wood which gave the Orchard Club a really unique and exquisite appeal. The people from Johnnie Walker, upon seeing the club, immediately said yes and made the Orchard the venue for the tournament," he further noted.
While Periquet already worked on a number of projects, he truly valued the ones that he did for Robles and Sta. Lucia, stating that working for the group allowed him to be friends with a man who has genuine care for his people and who really looks after the welfare of his clients.
"Mr. Robles is a genuinely caring man. He always looks after the welfare of his clients. We collaborate a lot and we have mutual respect for each other which makes our work a lot easier. More than just being an interior designer who does work for various Sta. Lucia developments, what I really value is the friendship that I was able to build with Mr. Robles," Periquet concluded.
Subscribe to INQUIRER PLUS to get access to The Philippine Daily Inquirer & other 70+ titles, share up to 5 gadgets, listen to the news, download as early as 4am & share articles on social media. Call 896 6000.