SM Prime taps solar power for Xiamen mall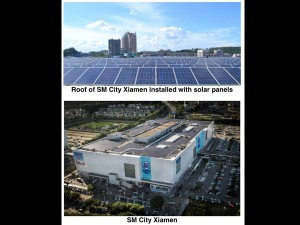 MANILA, Philippines–Property giant SM Prime Holdings Inc. has harnessed solar power for its shopping mall in Xiamen, pioneering such strategy in this city in the Fuijian Province of China, citing a commitment to reduce greenhouse emissions and optimize energy efficiency in its malls.
SM Prime announced on Monday that it had built a 1.1-megawatt rooftop solar power project in its Xiamen mall, the first and the most mature shopping mall in the group's growing portfolio in mainland China.
The project involved the installation of 3,740 solar panels on the roof of SM City Xiamen Phase 1 and Phase 2 (SM Lifestyle Center), with a total investment of 13.2 million renminbi(RMB) or $ 2 million.
The total capacity of the SM Xiamen Rooftop Solar Power Project is 1,100 kilowatt peak (KWp).The average generated electricity of the project is estimated at 1.1 million kilowatt hour(KWh) per year. The total generated electricity of the 25-year life cycle will be approximately 27.5 million KWh.
"SM Prime is constantly in pursuit of the highest level of operational efficiency. We want to significantly reduce greenhouse gas emissions and operating costs by minimizing electricity consumption. In line with this, we place strong emphasis in investing in the latest innovations in sustainable and energy efficient technology," SM Prime president Hans Sy said in a press statement.
Aside from SM City Xiamen, SM Prime has introduced a thermal energy storage plant in SM City Jinjiang. This ice-based cooling system fosters a large reduction in the mall's utility and energy bills and greatly optimizes energy efficiency.
SM Prime operates 47 malls all over the country with a combined gross floor area of 5.9 million square meters.
For the rest of 2013, SM Prime is scheduled to launch SM City BF Paranaque. SM Megamall will be expanded with the opening of Building D. By year-end, SM Prime expects to have 48 malls in the Philippines and five in China with an estimated combined gross floor area of 6.9 million square meters.
Subscribe to INQUIRER PLUS to get access to The Philippine Daily Inquirer & other 70+ titles, share up to 5 gadgets, listen to the news, download as early as 4am & share articles on social media. Call 896 6000.