Peso drops on expected cuts in SDA interest rates by Bangko Sentral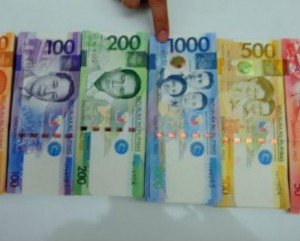 MANILA, Philippines — The peso dropped on the first trading day of the week amid expectations the Bangko Sentral ng Pilipinas again would cut the interest rate on special deposit accounts.
The local currency closed at 41.21 against the US dollar, down by 13.5 centavos from Friday's finish of 41.075:$1.
Intraday high hit 41.105:$1, while intraday low settled at 41.22:$1.
Volume of trade amounted to $914.54 million from $1.34 billion previously.
The depreciation of the peso came amid common expectations from market players that the BSP would cut anew the interest rate on SDAs during the Monetary Board's meeting on Thursday.
SDAs are believed to be attractive investment instruments because the yield, despite a total cut of 100 basis points since the start of the year, remains higher than interest rates on short-term government securities.
But with another rate cut on Thursday, SDAs are seen to be somewhat less attractive and thus cause a potential drop in foreign portfolio investments. Foreign funds actually are prohibited from being invested in SDAs, but monetary officials suspect that despite the prohibition, some foreigners are still placing money in SDAs due to the relatively attractive rate.
Following the two rate cuts done earlier this year—a 50-basis-point reduction in January and another of the same amount last month—the SDA rate now stands at 2.5 percent.
Many market players expect the BSP to cut the rate by another 50 basis points on Thursday.
Subscribe to INQUIRER PLUS to get access to The Philippine Daily Inquirer & other 70+ titles, share up to 5 gadgets, listen to the news, download as early as 4am & share articles on social media. Call 896 6000.