Peso rises on growth of US services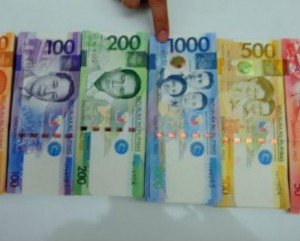 MANILA, Philippines—The peso strengthened on Wednesday following reports that the US services sector grew in February.
Traders said the improvement boosted hopes for better global economic recovery this year.
The local currency closed at 40.69 against the US dollar, up by 2.5 centavos from the previous day's finish of 40.715:$1.
Intraday high hit 40.67:$1, while intraday low settled at 40.70:$1.
Volume of trade reached $498.5 million compared with the $842.285 million previously.
The appreciation of the peso came following the release of a report that the Institute for Supply Management's non-manufacturing index increased to 56 in February from 55.2 the previous month.
The news supported views that the United States may still register faster growth this year despite budget cuts for the Federal government.
Traders said this partly fueled appetite for emerging-market assets like peso-denominated ones.
Subscribe to INQUIRER PLUS to get access to The Philippine Daily Inquirer & other 70+ titles, share up to 5 gadgets, listen to the news, download as early as 4am & share articles on social media. Call 896 6000.