PSEi breaches 6,000 mark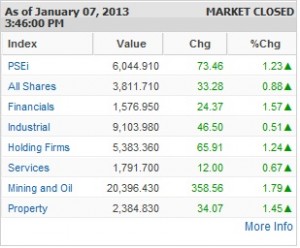 MANILA, Philippines—The Philippine Stock Exchange index on Monday rallied past 6,000 for the first time in history, marking a record high for the fourth straight session as investors loaded up on equities in anticipation of another good year.
The PSEi gained 73.46 points, or 1.23 percent, to close at the day's peak of 6,044.91, also a new intraday high record for the market, which bucked the profit-taking seen in most other markets in the region.
The rally was driven by ample liquidity in the financial system seeking higher yields alongside favorable economic numbers, said Bede Lovell Gomez, assistant vice president at investment house First Metro Investment Corp.
All sectors contributed to the upswing but the biggest gainers were mining/oil (+1.79 percent), financials (+1.57 percent), property (+1.45 percent) and holding firms (+1.24 percent).
Value turnover amounted to P8.5 billion while 107 advancers outnumbered 71 decliners. The biggest index gainers were Megaworld, BPI, MPI, SMC, Philex, AGI, Belle, Metrobank, ICTSI and SM Prime.
Meanwhile, PLDT (+0.45 percent) regained its position as the most valuable company in the local bourse with a market capitalization of P572.55 billion, a very narrow margin over challenger SM Investments' P568.15 billion. SMIC, which announced an alliance with the Waltermart group of companies, rose 1.2 percent to P923 a share.
Gomez said last week's favorable inflation report and a favorable sentiment across the region fueled the breakout past 6,000.
It was reported that inflation in December stood at 2.9 percent, slightly higher than the 2.8 percent in November. For the whole of 2012, inflation averaged 3.2 percent against 4.6 percent in 2011, thus hitting the lowest annual average in five years.
"Funds would like to position early. They are looking for the 12-month view," Gomez said.
He said the local market was still a "buy" as the index would likely rise further to 6,800 this year, supported by a 20-percent average growth in corporate earnings. He said the market would likely tolerate a price-to-earnings (P/E) ratio of 17x this year, which means they will pay 17 times the amount of money the marker will make in 2013.
Ismael Cruz, president of IGC Securities, said the market was trading at the high-end of the historical P/E range of 12x to 18.5x. On average, the market trades at about 15.5x projected earnings.
Originally posted at 03:48 pm | Monday, January 07, 2012
Subscribe to INQUIRER PLUS to get access to The Philippine Daily Inquirer & other 70+ titles, share up to 5 gadgets, listen to the news, download as early as 4am & share articles on social media. Call 896 6000.