STARTING 2013 GREEN
Beyond eco-bags, QC mall brings environment awareness to retail level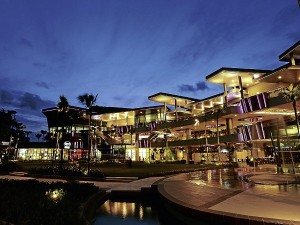 The new four-level retail complex Robinsons Magnolia Mall, located at the corner of Aurora Boulevard and Hemady Street in Quezon City, was recently awarded the green building certification by the local government.
Robinsons Magnolia sits on a total land area of 52,228 square meters, with a total gross floor area of 107,033 sq m. It features a landscaped park, and has 3 levels of parking. Robinsons Magnolia becomes the 6th largest among its 32 malls.
The Gokongwei-led Robinsons Land Corp., which bought the property from San Miguel Corp., claims that the new establishment strictly adheres to the stringent standards set under the city government's Green Building Ordinance of 2009, which requires the design, construction or retrofitting of buildings, other structures and movable properties to meet minimum standards of a green infrastructure.
Specific guidelines
The QC government enumerates specific guidelines for environmentally critical items that establishments, including malls, must adhere to. These are:
• Lighting fixtures used must be LED (light emitting diodes) or CFLs (compact fluorescent lamps) that not only burn longer but also use significantly less electricity (by as much as 30 percent).
• The treatment of wastewater, specifically the processes that such will undergo, must ensure that the effluent is within the acceptable parameters set by the Department of Environmnent and Natural Resources.
• The solid waste management program must minimize actual waste by segregating recyclables from nonrecyclable materials.
• The use of building materials and technology must reduce the consumption of water and power.
Robinsons Magnolia has claimed that its wastewater recycling processes make effluents suitable for cleaning, flushing and watering plants. It has also revealed that it has installed rainwater collectors to reduce the mall's reliance on commercially supplied water.
Energy conservation
The mall also uses skylights for natural lighting, which not only enhances the mall's aesthetics but has also resulted in a reduction of power consumption. Robinsons Magnolia has also installed the latest energy-efficient airconditioning units, considering airconditioning as the single largest expense of any mall.
"We do have an energy conservation committee which regularly checks on all our malls to ensure that energy conservation measures are not only identified but are actually implemented. This has been a long-running initiative not just of Robinsons Land but of the entire JG Summit conglomerate," says Arlene G. Magtibay, Robinsons Land Corp. general manager for commercial center division.
"There is consistent monitoring of these programs. Through the years, we have added or replaced certain equipment to help conserve energy. Many of our malls are also being retrofitted for wastewater recycling and rainwater collection to minimize water consumption. We are also constantly exploring and putting in place new technologies, such as the replacement of chemicals in water treatment with nonchemical alternatives," Magtibay adds.
Small carbon footprint
"Beyond the eco bags which everyone in the industry is doing, Robinsons is always searching for technology that would reduce our carbon footprint and contribute to the betterment of the environment," she says.
Aside from using the latest energy-efficient equipment and its wastewater recycling initiatives, the company maintains its own DENR-accredited laboratory where it is able to test its water and wastewater quality to ensure that these are safe and will not harm the environment when discharged.
A green building would cost at least 10 percent more than a conventional one, but Magtibay explains that from the purely financial standpoint, a green building that costs more to build, may not even necessarily have bigger returns than a conventional one.
"However, we do not just look at it from that viewpoint, we also weigh the social benefits and the long-term impact to the environment. I believe people now are very supportive of establishments that behave responsibly and that mirror their own concerns including those for the environment," she adds.
Driving force
Frederick Go, RLC president, is the driving force in creating the vision for Robinsons Magnolia, adds Magtibay. She says, "there are no special benefits from the QC government that the mall obtained by being certified 'green.'" RLC claims it is "the first green mall building in the country's most populous city."
When asked for comment, Green Architecture Movement founding chair Amado P. De Jesus Jr., FUAP, says: "Yes, these are definitely green features that can help reduce its carbon footprint but the important question is how much savings are made? What benchmarks are used? If QC has declared it as a green mall then it must be green using their standards."
De Jesus stresses that he is "not in a position to comment on the QC rating system."
De Jesus is the initiator and vice president of the Philippine Green Building Initiative. He adds that "we first established the benchmarks, then we put up the rating system."
Subscribe to INQUIRER PLUS to get access to The Philippine Daily Inquirer & other 70+ titles, share up to 5 gadgets, listen to the news, download as early as 4am & share articles on social media. Call 896 6000.