BDO, BPI eye Philippines' first exchange-traded funds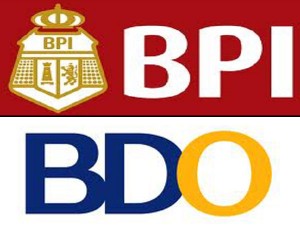 MANILA, Philippines—Two of the country's largest banks have expressed interest to roll out the country's first exchange-traded funds (ETFs), for which the policy framework is being finalized by the Securities and Exchange Commission.
Banco de Oro Unibank and Bank of the Philippine Islands have expressed interest in becoming sponsors of the ETFs, products that should complement equity-laced funds, SEC Commission Juanita Cueto told a press briefing late Tuesday.
She said the final framework for ETFs—a mutual fund-like asset class that the Philippine Stock Exchange has wanted to add to its array of product offering for over a decade—has been set for en banc discussion Thursday.
Cueto said the private sector had found ways to make the ETFs work notwithstanding tax concerns.
SEC chairperson Teresita Herbosa said the corporate watchdog would finish the framework in line with the target of the Philippine Stock Exchange to launch this new product before yearend.
ETF is a financial instrument that tracks an index, a commodity or a basket of assets like an index fund. Since it trades like a stock on an exchange, its net asset value (NAV) is not calculated every day but it usually trades close to its NAV. This instrument thus offers public investors an undivided interest in a pool of securities and other assets and thus is similar in many ways to traditional mutual funds, except that shares in an ETF can be bought and sold throughout the day like stocks on an exchange through a broker-dealer.
The proposed rules and regulations on ETF classify this as a new investment product, which is similar to mutual fund but has distinct characteristics. The framework is pursuant to the Investment Company Act (ICA), which prescribes the regulation of investment companies such as the requirements to register with the SEC and comply with certain standards. These standards include regular public disclosure of financial situation, investment policies and objectives, and fund portfolios, as well as the companies' pricing and fees.
An ETF issues redeemable shares at net asset value. However, the SEC said those shares can only be issued or redeemed by or through authorized participants.
The PSE has been planning to introduce ETFs since the early 2000s but taxation issues hampered its progress.
The first ETFs were introduced in the US in the early 1990s but have evolved since then. The first ETFs held a basket of securities that replicated the component securities of broad-based stock market indexes, such as the S&P 500. Many of the newer ETFs are based on more specialized indexes, including indexes that are designed specifically for a particular ETF, bond indexes and international indexes.