Known for 'pancit' Malabon and 'pichi-pichi,' Amber started as a garage eatery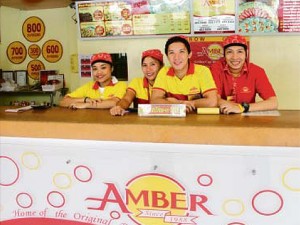 Even to this day, Editha M. Faustino couldn't believe that what started out as a simple eatery in the garage of their house in Malabon would eventually flourish into what is now the Amber Golden Chain of Restaurants.
Students from nearby schools were her regular customers, according to Faustino. But everything changed when her uncle Manuel L. Espiritu, or "Lolo Daddy" as he is fondly called, offered her to put up a restaurant in his property in Makati.
Faustino recalls that her uncle gave her three years, after which Espiritu would use the place for his machine shop business.
In December 1988, the first Amber restaurant Amber Golden Plate was established along Filmore st. in Makati. Faustino had only four employees at the start.
"I'd go to the market, then do the cooking, then man the cashier," Editha, 62, says in Filipino. But despite the arduous tasks, she was happy because the restaurant was always full of customers.
Pancit Malabon and pichi-pichi, which Faustino mixed and prepared herself, were the resto's specialties.
Pichi-pichi was sold for 25 centavos a piece then, while an order of pancit was P15 – P18 only.
"When I was still young, my aunt, who has a catering business, would bring me along with her so that's where I learned and developed my cooking skills," Faustino shares.
Because of Amber's success, Editha's uncle decided to look for another place to house his machine shop and let her continue with the restaurant business.
Editha wasn't able to finish her schooling, but she's happy and proud because her "sipag at tiyaga" brought them good fortune. "'Yun lang ang puhunan ko," she stresses.
Her husband Recci, who used to drive a passenger jeepney, and a school service vehicle in Malabon, now helps in running the business together with their children Rhoda F. Fernandez and Rhonald.
Eldest daughter Rhoda joined the business in 1996. She finished AB Sociology from UP Los Baños, MBA at the Ateneo Graduate School of Business, and Master in Food Service Administration from UP Diliman.
Rhonald took up electrical and communications engineering at De La Salle University. He used to work in the United States but returned to the Philippines in 2008 to join the family business.
Rhoda reveals it was her feasibility study for her graduate studies in UP Diliman that led to the opening of the second Amber restaurant in Muntinlupa, exactly 10 years after the first branch opened in Makati.
Her grandfather Lolo Daddy, who has been very supportive and proud of her interest in further studies, asked her if she was interested to open another branch just across his machine shop in Muntinlupa. Rhoda said yes and put up Amber Golden Spoon Restaurant in 1998.
She recalls how he gifted her with a coin bank on her 30th birthday with a note saying "they say life begins at 40 but yours started at 30…expand the business and use every round utensils that you can think of (for a name)"—round being a symbol of prosperity.
The restaurant is named after Amber, a resin from a tree sap which is golden-brown in color and believed by the Chinese to be lucky in business.
Although managing two branches were tough, Rhoda had bigger plans for Amber.
"I'm very aggressive, so I told my parents we shouldn't stop from having two outlets. We're going to open more," recalls Rhoda, who also attended Culinary Institute of America, and the Institute of Culinary Education in New York.
Soon, two more branches opened in 2007—Amber Golden Pot Restaurant in Mandaluyong and Amber Golden Bowl Restaurant in Quezon City.
When her brother Rhonald decided to come home, they worked together in running the business and were able to open the fifth branch, Amber Golden Cup Restaurant in Parañaque last year.
"My parents, my brother and I are all hands on in the business. Mama and Papa usually handle operations, the supplies, etc. Rhonald takes care of the existing branches and is also in charge of finding the right locations for future outlets. While I handle the manpower, accounting and all the paperwork," explains Rhoda.
To ensure the best quality of Amber's food, cooks are trained in the Makati branch before they are deployed to other branches.
"Everything is standardized . . . so the pancit in all our branches tastes the same," Rhoda explains.
Aside from pancit Malabon and pichi-pichi, spaghetti, chicken lollipops and lumpiang shanghai are Amber's bestsellers.
The resto is also starting to do away with plastic bags for its "take-out" containers and opts to use brown paper bags and boxes instead.
From a handful of employees in 1988, Amber now employs more than 300 workers in all its branches.
The number reaches 600 during peak season (October to January) when additional personnel are hired to meet the high demand of orders, according to Rhoda.
Most of the workers have been with them for many years, one of whom has been with Amber since its inception in 1988.
"They have become part of our family," Rhoda beams.
In fact, like a doting mother, Editha still prepares the menus for the free employees' meals (from breakfast to dinner). An in-house doctor also holds clinic in the main restaurant for the medical needs of the employees and their families.
During Christmas parties and the birthdays of Editha, employees come together for a fun-filled "family" day.
The workers so love their boss that in 2007 when Editha got sick and needed an operation, employees trooped to the hospital to donate blood and to attend the daily masses offered for her.
"That's one thing I always tell my children. To always look after the welfare of our employees. Kasi pag minahal mo sila, mamahalin ka rin nila at ang kumpanya," Editha emphasizes.
Amber has come a long way from its humble beginnings and the Faustino family vows to continue its tradition of serving Pinoys with good food at affordable prices.
Subscribe to INQUIRER PLUS to get access to The Philippine Daily Inquirer & other 70+ titles, share up to 5 gadgets, listen to the news, download as early as 4am & share articles on social media. Call 896 6000.