Builders & Movers
Building dreams at the 'Highlands' after martial law
As a youth growing up during martial law years, Chinese-Filipino businessman Willy Ocier was well aware of how many Filipinos had been deprived of "luxury."
But this "suppression" was what allowed Ocier to realize that ultimately, what he really wanted was to "build dreams."
"I saw how a lot of people from my generation were suppressed from pursuing a luxurious leisure lifestyle. So when the country finally broke out of its cycle of oppression during the dictatorial regime, our newfound freedom [served] as an opportunity for me to actually develop and turn my dream into reality," Belle Corp. vice chair Willy Ocier said in an interview with Inquirer Property.
And that dream is now sitting on a 1,300-hectare property at the highest elevations of Tagaytay, where a  breathtaking view of Taal Lake and a cool climate create a perfect weekend getaway for urbanites. Tagaytay Highlands by Belle Corp. currently provides an array of golf and country clubs, selection of retaurants, world-class amenities and a variety of premium residential communities that define exclusivity and luxury.
According to Ocier, the concept of developing Tagaytay Highlands was actually patterned after a lifestyle he would have wanted for himself and his family. It was also a lifestyle he deemed to be acceptable to the growing population of yuppies (young professionals) during his time.
This same lifestyle, Ocier added, was already prevalent in developed countries like the United States and Japan.
"The concept caught on because a lot of people who were just as oppressed during my time came out of their shells, and together we pursued the lifestyle we deserved," Ocier noted.
But Tagaytay Highlands almost never came to life, if not for Henry Sy Sr., who Ocier considered as his mentor and who had largely influenced him to try his luck and venture into property development.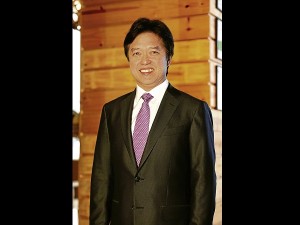 "Henry Sy Sr. or Tatang as he is fondly called, is undoubtedly one of my greatest influences and dear mentor. He led by example and showed me the essence of smart frugality. He had a simple way of looking at things and he saw greatness in minute details which others might easily deem unnecessary of insignificant," Ocier beamed.
It was also Sy, he added, who steered his sights toward the right direction—which was to invest in Tagaytay. Ocier revealed that it was Sy who predicted almost 30 years ago that Tagaytay would then boom as the next rest and recreation capital of Metro Manila, because of its proximity to the place, breathtaking views and cool weather.
"It was as if he had a sixth sense of what would be the next big thing. His foresight got me all obsessed with the potential of Tagaytay. I invested in the properties together with Mr. Sy and that was how I started in the real estate business," Ocier related.
Sy would prove to be right as Ocier was able to pull off an ambitious project as Tagaytay Highlands, considered as the first integrated leisure property resort in the country.
With this success, Ocier believed that rightfully, Belle Corp. too, can be considered as pioneer in terms of leisure developments.
"I must say that we at Belle Corp., in a major way, are pioneers of this kind of development so it was not surprising that many developers—big and small—pursued the luxury leisure sector in a more aggressive manner after the success of Tagaytay Highlands," Ocier claimed.
"I am proud to say we have pioneered leisure living in the Philippines in a big way. When we started the project there was nothing like it. Now you can see major property companies trying to duplicate what Tagaytay Highlands has done but again I'm proud to say nothing comes close," he further said.
"It is virtually impossible to recreate the drama and character that is Tagaytay Highlands," Ocier added.
But like all ambitious developments, Tagaytay Highlands, before it reached its peak, had to hurdle through a fair share of challenges—dealing with such a difficult terrain, the lack of adequate infrastructure and roads leading to the property at that time, as well as the absence of basic utilities in the area.
But these were not enough to deter Ocier and Belle Corp.'s will to provide Filipinos a truly remarkable and world-class development as Tagaytay Highlands.
"As the project went on, we were able to address all those issues and establish a winning formula for a real estate development. You just have to see beyond all the negatives in order to see the potentials of what was at first difficult," Ocier noted.
And that winning formula paved the way for Tagaytay Highlands' continued success over the past decades—a success which Ocier credits to "merging your dreams with good people and good business partners."
"You need people who can share your vision and who are willing to fold up their sleeves and work alongside you. I had plenty of those people when I started—people who were willing to take a chance and jump off a cliff and somehow emerge triumphant from all the work and challenges," Ocier shared.
Although it already enjoys the loyal patronage of a growing number of guests, Tagaytay Highlands, according to Ocier, will still continue to grow and expand to become more relevant to the changing times and evolving lifestyles of their clients.
"What we started out to build will certaintly evolve as time changes," he added.
But whatever changes will be incorporated, Ocier is adamant only about one thing: that Tagaytay Highlands will stay "pure to its original concept where people can feel detached from the rat race of the city life."
"That's exactly what the leisure lifestyle is all about. I want to give people a place where they can recharge from the hustle and bustle of city life and bond with their families and relatives," he added.
At the end of it all, Ocier admitted that he can no longer imagine himself doing something else aside from being a developer.
"This is what I was born to do and I cannot envision my path any other way. But if I were not a businessman I would probably be an author of a book similar to 'Eat, Pray, Love,' because I find it fascinating to learn about cultures and to travel to distant land and live on my own terms," he disclosed.
However, Ocier stressed that he is just as happy and contented as where he is right now as he is able to open opportunities for other people. He said he derives satisfaction from his work, knowing that every project he undertakes can provide employment and livelihood to many people in the communities surrounding Tagaytay Highlands.
"I help create jobs and livelihood. It's a good thing to be involved in a profession that creates and not destroys," he concluded.
Subscribe to INQUIRER PLUS to get access to The Philippine Daily Inquirer & other 70+ titles, share up to 5 gadgets, listen to the news, download as early as 4am & share articles on social media. Call 896 6000.