CEMEX PH recognized as a top performing publicly-listed company for corporate governance
CEMEX Holdings Philippines (CHP) bagged a new Golden Arrow Recognition for being a Top Performing Publicly-listedCompany in the Philippines. This marks the second time CHP has received the prestigious recognition, the first was in 2019, from the Institute of Corporate Directors (ICD).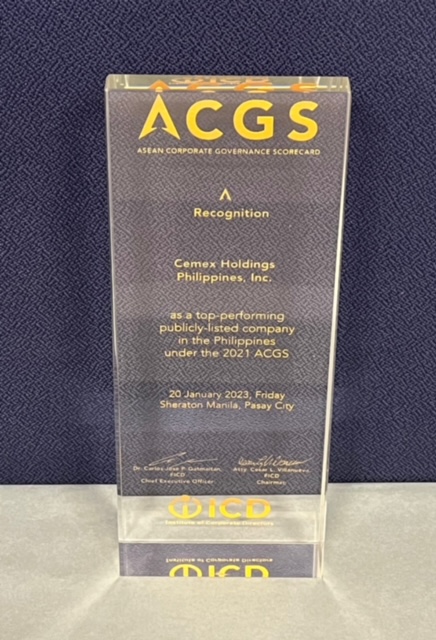 "Receiving a second Golden Arrow affirms CEMEX's continued commitment to achieve excellence in Corporate Governance by following international best practices and operating with the highest standards of integrity, transparency, ethics and compliance," said Luis Franco, CHP President & CEO.
Golden Arrow Recognition is given to publicly listed companies that are considered top performing companies in the Philippines based on the 2021 ASEAN Corporate Governance Scorecard (ACGS) Assessment Results.
The recognition is testament to CHP's observable conformance with the Philippine Corporate Governance and internally recommended corporate governance practices espoused by the ACGS. It also highlights the sound implementation of its socioeconomic programs and sustainability initiatives that support nation-building.
CHP's Investor Relations Director Pierre Co received the award on behalf of the company during ceremonies recently held at Sheraton Manila, Pasay City.
Jointly developed by Asian Development Bank (ADB) and the ASEAN Capital Markets Forum, the ACGS aims to raise the corporate governance standards and practices among publicly listed companies in the ASEAN, to make well-governed companies more attractive to investors and to promote the ASEAN as an investment asset class. Six ASEAN countries namely the Philippines, Indonesia, Malaysia, Singapore, Thailand, and Vietnam participate in the ACGS.
ADVT.
Subscribe to INQUIRER PLUS to get access to The Philippine Daily Inquirer & other 70+ titles, share up to 5 gadgets, listen to the news, download as early as 4am & share articles on social media. Call 896 6000.