Neda chief Chua: Immediate relief to 'Odette' victims to minimize temporary slide to poverty
MANILA, Philippines — Socioeconomic Planning Secretary Karl Kendrick Chua on Sunday said extending immediate aid to areas badly hit by Typhoon Odette last week will be key to prevent a temporary slide to poverty among victims and not aggravate the economic scarring wrought by the prolonged COVID-19 pandemic.
"Immediate relief operations are the priority now to mitigate the effect on affected people," Chua, who heads the state planning agency National Economic and Development Authority (Neda), told the Inquirer.
The government's report on first-half poverty incidence last week showed relatively higher poverty rates in Visayas and Mindanao region — where Odette wreaked havoc last week — than in Luzon.
Western Visayas had a poverty rate of 25.3 percent; Central Visayas, 33 percent; and Eastern Visayas, 36 percent.
In Mindanao, Zamboanga Peninsula's poverty incidence was 37.4 percent; in Northern Mindanao, 33.8 percent; Davao Region, 19.4 percent; Soccsksargen, 34.1 percent; Caraga, 38.3 percent; and Bangsamoro Autonomous Region in Muslim Mindanao (BARMM), the highest regional poverty rate of 45.8 percent.
The National Capital Region (NCR) had the lowest poverty incidence — 7.8 percent of its population. Ilocos Region had 20.2 percent; Cagayan Valley, 20.9 percent; Cordillera Autonomous Region (CAR), 16.2 percent; Central Luzon, 18.2 percent; Calabarzon, 14.8 percent; Mimaropa, 25.7 percent; and Bicol Region, 33.5 percent.
In all, the nationwide poverty rate climbed to 23.7 percent — equivalent to 26.1 million Filipinos — during the first half, from 21.1 percent or 22.3 million poor people during the same period in 2018.
Last Thursday, Finance Secretary Carlos Dominguez III said the government can tap the $500-million quick-disbursing credit line for disaster response and reconstruction, which the World Bank extended to the Philippines in November, following reports of extensive damage wrought by Odette.
The fourth disaster risk management development policy loan with a catastrophe-deferred drawdown option (CAT-DDO 4) allows immediate access to emergency funds upon the Philippine government's declaration of a state of calamity or public health emergency.
To recall, a similar $500-million CAT-DDO 2 loan that the World Bank approved in 2015 released $496.25 million to the government in 2018 to rehabilitate the areas flattened by typhoon "Ompong" in Luzon three years ago.
Asked about the potential impact of Odette's damage on fourth-quarter gross domestic product (GDP), Chua said Neda was still awaiting a full impact or damage report. If needed, the government will do a post-disaster needs assessment, he added.
Last week, President Duterte's economic managers expressed confidence that the upgraded 5-5.5 percent GDP growth target for 2021 will be achieved with the help of a "doable" 7-8 percent fourth-quarter expansion amid further reopening of more productive sectors plus declining COVID-19 infections.
/MUF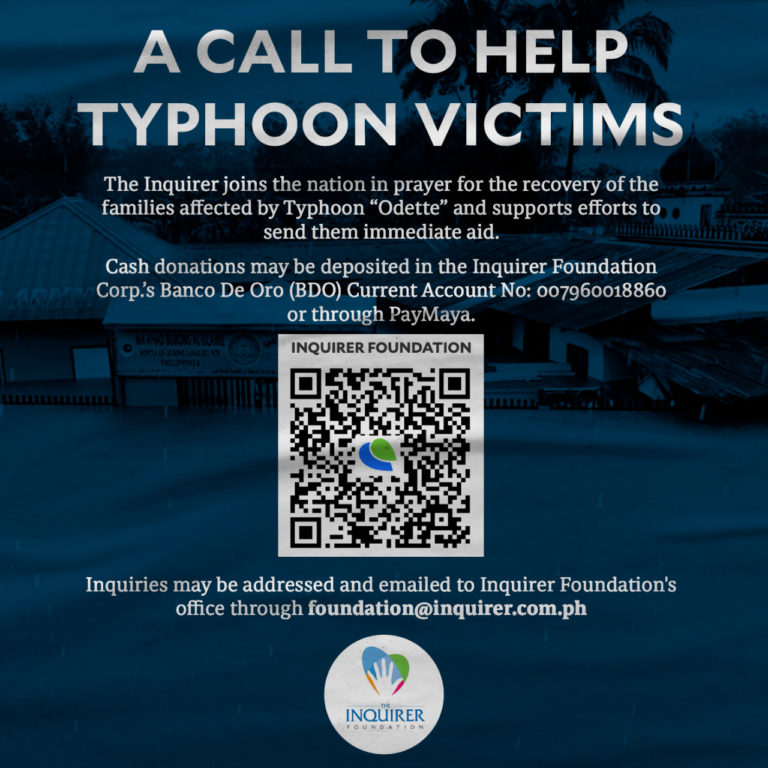 Subscribe to INQUIRER PLUS to get access to The Philippine Daily Inquirer & other 70+ titles, share up to 5 gadgets, listen to the news, download as early as 4am & share articles on social media. Call 896 6000.