Office and residential property markets in PH set to recover in 2021
Lobien Realty Group believes that the worst is over with respect to the COVID-19 Pandemic. This belief is based on the existence of several high efficacy and safe vaccines that are now being rolled out in different countries and the Philippines has also started its negotiations for the procurement of the vaccines, with the vaccination expected to start in the second quarter of 2021.
State of the Philippine Economy
The Asian Development Bank says the Philippine economy is still down but is slowly recovering, as the GDP contraction decreased to 11.5% in the 3rd quarter from a contraction of 16.9% in the 2nd quarter of 2020. Full year GDP growth forecast in 2020 declined to -7.3%, but is expected to increase at 6.5% in 2021. The Business Expectation Survey (BES) under Bangko Sentral ng Pilipinas (BSP) shows that by 2021 the employment outlook index may have a growth of 5.3% after crashing to -5.5% in the third quarter of 2020.
There are currently two available templates with respect to the country's economic recovery after an external economic crisis: the recoveries that happened after the 1998 Asian Financial Crisis (AFC) and the 2008 Global Financial Crisis (GCF). A "V" shaped recovery happened for both 1998 AFC and 2008 GCF. The recovery in 2008 was quicker and more pronounced than the one that happened in 1998 AFC. In 2008, OFW remittance as a percentage of GDP, unemployment rate and interest rate were all stable and the trendlines of these three indicators were all in support of an economic recovery; hence, the much faster and significant recovery. However, for the 1997 AFC, although lending interest rate was going down to provide the much needed credit and liquidity to the economy, unemployment increased and OFW remittance decreased which ran counter to the government's efforts of a quick economic recovery. Using these indicators, the 2020 economic crisis brought about by the COVID 19 pandemic has the same picture as the 1997 AFC, pointing to a longer economic recovery.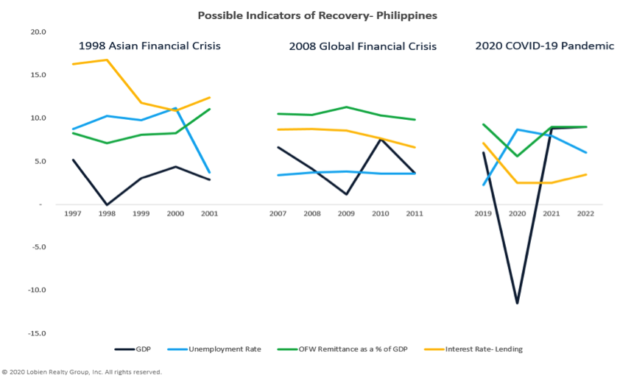 Just like other sectors of the economy, the Philippines' real estate industry suffered in 2020. Lobien Realty Group, one of the fastest rising real estate consulting companies in the Philippines, forecasts that 2021 will be a slow but sure recovery year for real estate as well, particularly for the office and residential property markets.
The Office Property Market
 The Metro Manila Office Property Market
There is currently an 8% vacancy of office spaces across all Metro Manila business districts. In the 4th quarter of 2020, supply of office space in Metro Manila totals 739,312 sqm while available supply amounts to 313,533.17 sqm. which means 53% of all office spaces in Metro Manila remain leased. 3 million sqm. of office space supply are presently in the Metro Manila pipeline. The average rent of these spaces stands at Php1,190/sqm.
BPOs lead the demand drive for office space in Metro Manila representing approximately 41%, Gaming demand drive is around 16%, while other industries comprise about 43% of Metro Manila office space demand drive.
The BPO industry reported FTE growth of 5.3% from 2016-2018 and projects 6%-7% FTE growth for the period 2019-2022. In 2020, recorded take up of office space by BPOs was 143,000sqm. and total revenue was USD26.2billion. According to a survey presented by the IT & Business Process Association of the Philippines (IBPAP), the BPO industry has been growing to improve productivity since the beginning of the COVID-19 quarantine from 50% in April, 73% in May, 81% in June and 90% in July.
The online gaming/POGO industry has occupied a total of 1.03Msqm. of office space since 2016. Currently, POGOs share to total leasable office stock to date stands at 9%.
Co-working spaces are envisaged to be a growing feature of the new normal in workplaces. Startup companies, freelancers, entrepreneurs and digital nomads, and remote teams drive demand for co-working spaces. At present, there are 110 Co-working spaces in Metro Manila. Total co-working spaces amount to 350,000sqm representing 9,786 total workstations available. The Global Flexible Office Market is projected to grow at a compound annual growth rate (CAGR) of 18% from 2020 to 2027. The Asia Pacific region is considered the fastest-growing region within the global flexible office market due to the rise of co-working centers and other styles of flexible office spaces.
Impact of Covid-19 on Office Rental Rates
Currently, the most relevant and frequently-asked question in the office space market is the impact of the 2020 COVID Pandemic on rental rates. Lobien Realty Group forecasts that there will be a 25-30% rental rates decline starting 2021. 2020 rental rates computations have not reflected the decrease due to the POGOs' contractual agreements of about a year's worth of security and advance deposits which protected the landlords' rent income during the lockdowns and despite the numerous lease pre-terminations. The lockdowns, which resulted in many business contraction and closures, the flight of many of the POGOs and the prevailing economic situation in 2021 a s a result of the COVID-19 pandemic are expected to increase office space vacancy rates and soften office demand in 2021.
The Provincial Office Property Market
Townships have become trendy locations for offices. Having residential, entertainment, civic, recreational, and office spaces located close to one another appeals to many companies looking for leasable office space. Presently, there are 80 Township sites across the Philippines and 60% of them can be found outside Metro Manila.
Next Wave Cities will be the alternative investment hubs outside Metro Manila. These Cities promote country-wide improvement, create job opportunities and economic advancement in their region. These   10 New Wave Cities are Baguio City, Cagayan De Oro City, Dagupan City, Dasmariñas City, Dumaguete City, Lipa City, Malolos City, Naga City, Sta. Rosa City, and Taytay Rizal.
There is an 18% vacancy rate of office spaces across all provincial business districts. In the 4th quarter of 2020, total supply of provincial office space totals 269,711.60sqm. while available supply is 219,184.69sqm., which means only 19% of existing provincial office space is leased. Average rent is Php 630/sqm. for these office spaces.
The Residential Property Market
 LRG reports that condominium developers are projected to launch around 24,000 square meters of residential units to the market this 2021, while condominium take-up is expected to amount to 36,000 square meters. 2020 condominium pre-selling data on percentage of take up based on price range shows that 3% of condominiums priced below Php3M, 11% of condos priced between Php3M-Php7M, 45% of condos priced between Php7M-Php15M, and 41% of condos priced above Php15M were taken up in 2020.
In 2020, the BSP says the residential real estate price index (RREPI) plunged 0.4 percent to 131.2 in the third quarter from 131.7 in the same quarter last 2019, indicating that demand is low as the country fell into recession due to the COVID-19 pandemic. This is the first negative year-on-year growth since the launch of RREPI in the first quarter of 2016. Weak consumer demand and low consumer preference in buying houses and lots may have contributed to the decline in the RREPI as the pandemic continues to cause economic uncertainty in the country.
Shown below are some of the current prices of residential properties in key areas of Metro Manila:
District                                               Current Values (Php/sqm)
Makati CBD                                                  350,000 – 1,000,000
Bonifacio Global City                                 300,000 – 350,000
Ortigas Center                                             250,000 – 280,000
Muntinlupa / Alabang                               120,000 – 140,000
Bay City                                                         230,000 – 280,000
Lobien Realty Group forecasts that 2021 will be a better year for the real estate industry as the worst of the COVID-19 pandemic is seen to be over in light of the planned aggressive roll-out of the various COVID-19 vaccines. The speed and magnitude of the real estate recovery will also depend on the national government's ability to roll-out the vaccines and rebuild the economy through the government's monetary and fiscal policies as embodied in the Bayanihan to Heal as One Law.
ADVT.
Subscribe to INQUIRER PLUS to get access to The Philippine Daily Inquirer & other 70+ titles, share up to 5 gadgets, listen to the news, download as early as 4am & share articles on social media. Call 896 6000.