Water interruptions add to power woes
While residents of Metro Manila and 11 provinces continue to suffer power outages due to Typhoon Ulysses (international name: Vamco), water concessionaires announced that consumers would also have to bear with service interruptions starting Nov. 13 because of high water turbidity.
Maynilad Water Services blamed the interruptions on the increased amount of sediments in raw water at the Ipo Dam and customers will consequently experience low pressure or no flow until further notice.
According to Maynilad, this means service interruptions in parts of Quezon City, Navotas, Valenzuela, Parañaque, Caloocan, Las Piñas, Makati, Manila, Pasay, as well as Imus, Rosario, Bacoor and Cavite City.
As for Manila Water Company, customers were also advised to expect subnormal flow from the tap, especially in Antipolo City, San Mateo, Rodriguez and other areas in Rizal. The same goes for customers in Pasig City and Marikina City.
The Ayala group subsidiary said heavy rain, floods and power outages rendered the company's pumps inoperable and deprived refills for reservoirs that feed raw supply to water treatment plants.
As of Friday morning, the water level at Angat Dam in Bulacan has breached its normal high level of 210 meters above sea level (masl), reaching 214.5 masl or 3.5 meters below spilling level.
Near spilling level
Also, La Mesa Dam in Quezon City was 3 centimeters shy of its spilling level of 80.15 masl.
At Ipo Dam also in Bulacan, water level was pegged at 100.68 masl, nearing its spilling level of 100.1 masl.
While still below their spilling level, Angat and Ipo dams let out water as a precaution. As of Friday morning, Angat Dam has stopped spilling but Ipo Dam still had two gates open, according to the Philippine Atmospheric, Geophysical and Astronomical Services Administration.
At the same time, eight 69-kilovolt transmission lines damaged by Ulysses are preventing the full restoration of electricity in parts of Metro Manila, Bulacan, Cavite, Laguna, Rizal, Mountain Province, Aurora, Cagayan, Isabela, Nueva Ecija, Quezon and Albay provinces.
According to the National Grid Corp. of the Philippines (NGCP), line crews have finished repair work on two other 69-kv lines, the Ligao-Polangui and Ligao-Ligao lines in Albay but NGCP was still coordinating with the Albay Power and Energy Corp. on the restoration of power.
"NGCP is currently conducting aerial and foot patrols to assess the extent of the damage to its facilities, and simultaneously conducting restoration activities to areas already accessible," the grid operator said.
In Metro Manila and nearby provinces, the Manila Electric Co. (Meralco) said they had reduced the number of powerless households to around 453,000, but floodwater and debris were hampering the full restoration of services.
"From 3.8 million affected customers during the onslaught of Typhoon Ulysses, our line crews have remained unrelentless in restoring electricity service in these areas and the customer count is now down to 453,349," said Joe Zaldarriaga, Meralco spokesperson.
He said power restoration might take longer in Marikina and parts of Rizal and Bulacan.
Click here for more weather related news.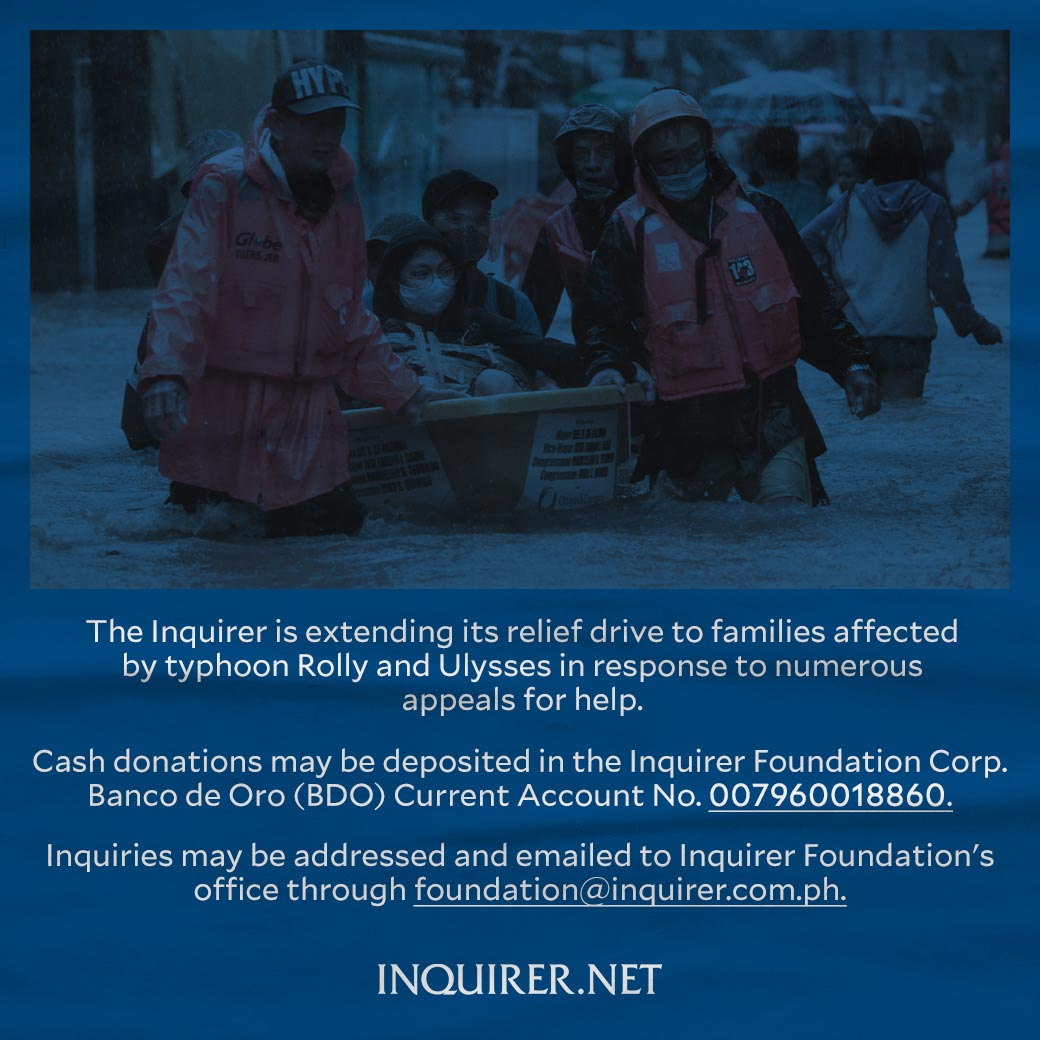 Subscribe to INQUIRER PLUS to get access to The Philippine Daily Inquirer & other 70+ titles, share up to 5 gadgets, listen to the news, download as early as 4am & share articles on social media. Call 896 6000.