DATEM's commitment to excellence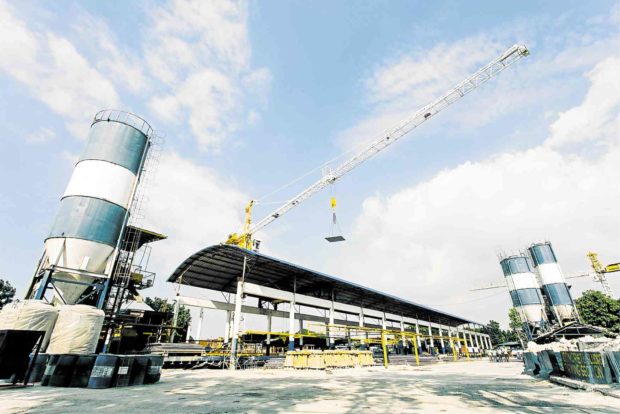 It was by no mere chance that a reputable firm as Datem Inc. remains on top of its game 35 years since its inception.
There has always been that unwavering commitment to "adhere to best practices, contribute to sustainable development, and deliver only the highest standards of excellence." Add to that Datem's recognition of technology and innovation as crucial pillars of growth and you have a company that weathered several economic downturns and now enjoying an impressive roster of landmark projects.
Introducing precast
True to its vision of being the preferred partner in total value-engineered construction, Datem has long been introducing to the Philippine market technologies and innovations that did not only revolutionize the industry, but has also helped many real estate firms realize their sustainability goals for their respective projects.
As early as 1995 to 1996, the company had incorporated Datemform, a partnership with an international firm specializing in formworks and precast technology with the goal of providing cost-effective, innovative solutions to construction requirements. In 1998, Datem had its first showcase as it pioneered the use of precast technology: the company completed the construction of the ELJ Communication Center in Quezon City in record time, setting a new standard in construction.
Specifically, innovations that Datem introduced over the years included the pre-fixed structural and architectural reinforced concrete precast wall systems; transfloor half-slab precast system; and reinforced concrete precast intermediate beam system for the structural work component of the company's projects, among others. For architectural finishing works, Datem introduced interior wall systems such as Ecowall and Datem Wallcrete, which were said to be more cost-efficient.
Datem noted that precast technology was considerably faster than the conventional system, thus allowing it to "compress project schedule, dramatically decrease waste, minimize formworks and scaffolding, and speed up the exchange of on-site trade and services."
Green movement
Over the last decade, Datem saw itself increasingly making a push for green, sustainable structures, as anchored on its core value of malasakit. It is, in fact, identified to be one of the company's missions as well: "by committing to be the foremost green builder in the country through environmental practice and sustainable development."
This staunch commitment landed Datem an impressive line-up of projects where it has helped its clients create more sustainable, livable structures, which all secured certifications from both the US Green Building Council and the Philippine Green Building Council.
Among its projects was Megaworld Corp.'s 8 Campus Place, reportedly the first office building to be certified under the USGBC's Leadership in Energy and Environmental Design (LEED) rating system. Its green building features include provision of water-efficient plumbing fixtures that decrease water use by 45 percent; use of double-glazed, double low-e windows to maximize natural ventilation and natural daylight with minimum heat gain; use of construction materials with more than 30 percent recycled content; and use of locally available materials in over 30 percent of requirements, among others.
Datem's other projects include boutique developer Arthaland Corp.'s Arya Residence, which secured certifications from both USGBC and PhilGBC; phase 1 of Filinvest's Botanika Nature Residences in Muntinlupa City; the 22-storey Menarco Tower, a commercial building in Bonifacio Global City being developed by Menarco Development Corp.; The Brilliance Center, a 15-storey office building also in BGC; The Mind Museum, a state-of-the-art science museum developed by Bonifacio Art Foundation Inc.; and phases 1 and 2 of the Unilab Corporate Center in Mandaluyong.
Indeed, Datem has secured projects that have not only transformed the construction industry but have also helped shaped the country's skyline.
There is not doubt that this Quadruple A contractor deserves its spot as one of the top construction companies in the country today, owing to a growth that continues to be fueled by a steadfast commitment and passion for excellence, innovation and technology.
Subscribe to INQUIRER PLUS to get access to The Philippine Daily Inquirer & other 70+ titles, share up to 5 gadgets, listen to the news, download as early as 4am & share articles on social media. Call 896 6000.