PSEi slides 0.47%, closes at 8,358.47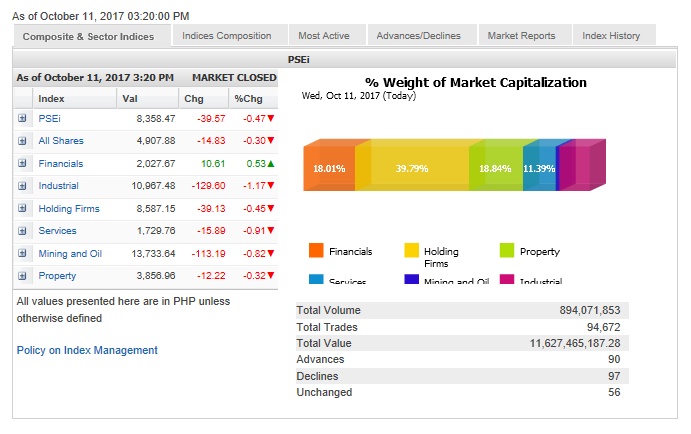 The local stock barometer shied away from record highs yesterday as investors pocketed gains after recent tests on the 8,400 barrier.
The main-share Philippine Stock Exchange index (PSEi) shed 39.57 points or 0.47 percent to close at 8,358.47. Elsewhere in the region, stock markets were mostly up, tracking firmer trading in Wall Street overnight.
The PSEi hit an all-time high on Tuesday, marking its best-ever finish of 8,398.04 while a new intra-day peak of 8,409.92 was hit.
"Philippine markets gave in to profit taking while US Stocks finished slightly higher last Tuesday," said Luis Gerardo Limlingan, managing director at stock brokerage Regina Capital Development.
Overnight, the closely-tracked Dow Jones Industrial Average The DJIA was up by 0.31 percent to 22,830.68 points, its eighth gain in the past 10 sessions.
"Investors are taking money off the table to wait for more hints on next movement of the Fed (US Federal Reserve) with the next rate hike. The September FOMC (Federal Open Market Committee) meeting announced the start of balance sheet runoff, as expected. The dot plot continued to show strong support for a third rate hike this year and three hikes in 2018, and chair (Janet) Yellen continued to downplay the soft inflation data in her post-meeting press conference," Limlingan said.
At the local market, all counters fell yesterday, led by the industrial counter which lost 1.17 percent, while the holding firms, services, mining/oil and property counters slipped.
Only the financial counter ended slightly higher.
Foreigner investors were net sellers in the stock market, resulting in net outflow of nearly P1.3 billion for the day.
Total value turnover amounted to P11.63 billion, including a P2.8-billion discounted block sale on retailer RRHI.
Shares of RRHI—the latest company to join the PSEi—were crossed at P97.80 each, marking a 5.7-percent discount from Tuesday's finish of P103.74 per share.
There were 97 decliners that edged out 90 advancers while 56 stocks were unchanged.
RRHI fell by 4.85 percent to close at P98 per share. Another Gokongwei-led stock, URC, likewise fell by 3.87 percent.
Subscribe to INQUIRER PLUS to get access to The Philippine Daily Inquirer & other 70+ titles, share up to 5 gadgets, listen to the news, download as early as 4am & share articles on social media. Call 896 6000.