Building inclusive economy
Globe helps gov't create sustainable and resilient communities
The threat of terrorism is very real.
Member economies of the Asia Pacific Economic Cooperation (APEC) knew this only too well that in recent meetings in Cebu, its Counter-Terrorism Working Group (CTWG) stressed the need anew to craft new action plans to ensure that existing measures will be more responsive to the current security threats faced by the region.
"Lives are lost, families are broken. Communities are destroyed. People are forced to live in harsh conditions, fearing for their lives. And many people are forced to flee their homes," said CTWG Chair Acting Executive Dir. Oscar F. Valenzuela.
"Our group has the difficult task of combating terrorism—a bane that has been increasing in recent years. This task proves to be difficult as it involves a wide spectrum of issues from economics, to ideology, to politics. However, our plans and strategies should not remain only as ideas or on paper. We must put them into action. The time to act is now," Valenzuela stressed.
Apec members acknowledged the harsh reality that extremism has become more pronounced over the last two years, a development that could not only have a significant adverse impact to life and property, but also potentially expose businesses across member economies to greater instability.
"The battle ahead of us is not just about territory, nor is it only about wealth or resources. It is a battle to protect our way of life, one of peace and prosperity where everyone's rights are protected and respected. We must not allow our people to live in fear," Valenzuela stated.
"The Counter-Terrorism Working Group is committed to fulfilling its role within the Apec, in line with its priorities and aims and Apec's 2015 theme of 'Building Inclusive Economies, Building a Better World.' It is hoped that the role of security, especially against terrorism, in building sustainable and resilient communities will have a real world impact that can be seen and felt by the people in our economies," he added.
Resilient communities
Indeed, the fight against terrorism and other forms of threats can be a treacherous one and would thus need the concerted effort of both the public and private sectors.
Fortunately, in many countries like the Philippines, there is a strong partnership between the government and the business community, which in particular is seen to play a crucial role in ensuring and safeguarding the overall security of the nation.
Some companies, in fact, are already implementing programs to help empower the public even from the barangay level, as a way to help curb rising incidences of crime.
Take the case of leading telecommunications provider Globe Telecom which has helped arm local leaders with the right tools to curb rising incidences of crime in their respective communities.
Through its corporate social responsibility arm BridgeCom, Globe launched back in 2008 the "Sagot Ka Ni Kap!" program, which enabled residents to be more engaged and vigilant in maintaining the peace and order situation of their community.
Globe provided barangays with communication equipment such as mobile phones with Globe or TM SIM and hand-held radios; and law enforcement tools such as uniform shirts, raincoats, boots, heavy-duty flashlights, tear gas, and handcuffs for barangay tanods and local community police auxiliary units. It was envisioned that opening the lines of communication would foster leadership and good governance, which would then result in peaceful and orderly communities.
"We at Globe have seen how theft, vandalism and acts of sabotage have hampered business operations in an unprecedented level. However, we also believe that the repercussions for the host community should also be considered. It has become apparent that with the regularity of these unwanted occurrences in their neighborhood, the host communities' own peace of mind and safety has become problematic. This unstable environment in the community has caused missed opportunities in terms of business and development," said Globe Telecom SVP for Corporate Communications, Yoly Crisanto.
Baranggay empowerment
Through the same program, Globe provided tarpaulin signage containing details of the dedicated barangay-based mobile hotline, through which community members can file incident reports.
SKK communities are further provided with capacity-building workshops, designed to inspire and empower barangay officials and "tanods" to be proactive in community development efforts. The workshop included modules on community leadership, conflict resolution, and crisis management.
"By providing the barangay a mobile hotline, safety and security equipment and incentives for 'barangay tanods' such as accident insurance coverage, 'Sagot Ka Ni Kap!' has enabled the residents to be more involved in maintaining the peace and order as evidenced by continuous stream of text messages at 15 to 20 per day, all reporting various disturbances and complaints. Prior to the implementation of 'Sagot Ka ni Kap!', the barangay only received one to two complaints a day," Crisanto explained.
SKK also became a feedback mechanism for the barangay officials and served as a monitoring tool for council-approved ordinances. Reported incidents through calls or texts meanwhile led to the immediate resolution of documented cases such as rape, fights, disorderly conduct due to intoxication and physical abuse/infliction due to mental disorder.
"Another benefit of the program is the increased visibility of barangay tanods during barangay festivals, relief operations and other community gatherings," Crisanto added.
Fast forward to this year, the Sagot Ka ni Kap! program has already evolved into a municipal-wide program that aims to equip and transform local governments to become risk resilient and capable of managing disasters, natural or man-made.
Since its inception, the SKK has been implemented in more than 400 barangays nationwide.
Globe is currently working with 40 municipalities situated in high-risk and hazardous areas. Though admittedly limited as a total intervention for eradicating criminal elements, the program is successful in espousing constructive dialogue and providing a solid foundation for future cooperation between Globe and the communities it works with.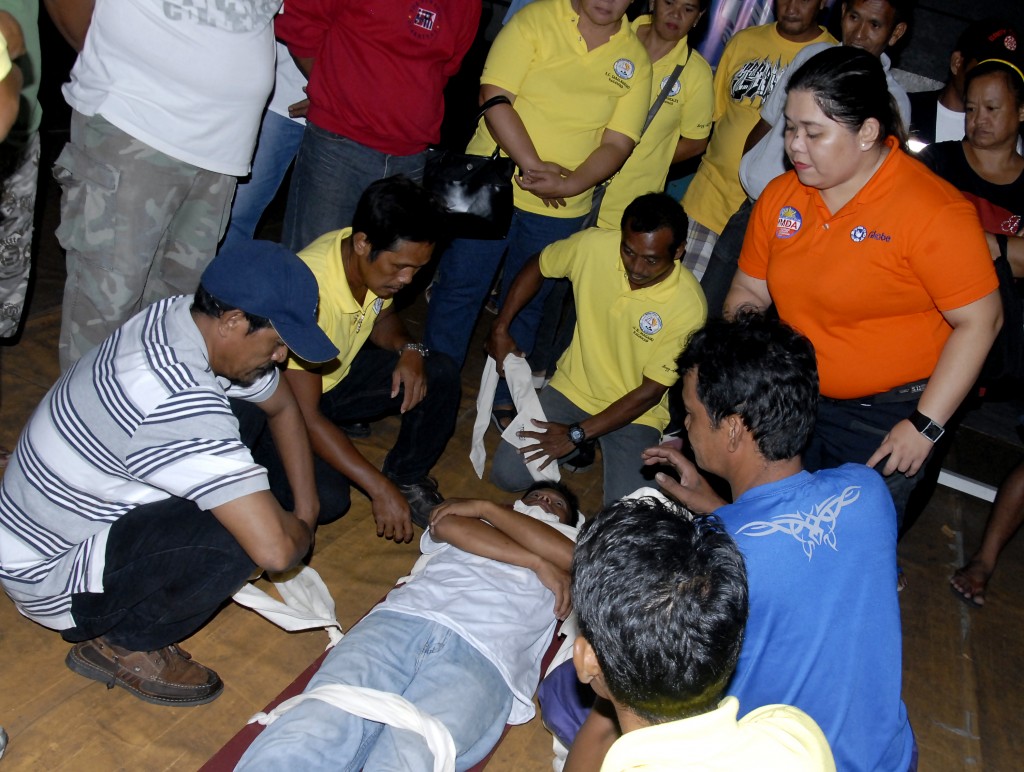 "The 'Sagot Ka Ni Kap!' program made a dismal situation into an opportunity for leadership. By providing the local government units the proper ICT, capacity building programs, safety gear and accident insurance coverage, duty-bearers learn how to minimize risk with informed decision making and responsive governance," Crisanto concluded.
Subscribe to our business newsletter
Subscribe to INQUIRER PLUS to get access to The Philippine Daily Inquirer & other 70+ titles, share up to 5 gadgets, listen to the news, download as early as 4am & share articles on social media. Call 896 6000.