Globe myBusiness empowers SMBs with latest digital solutions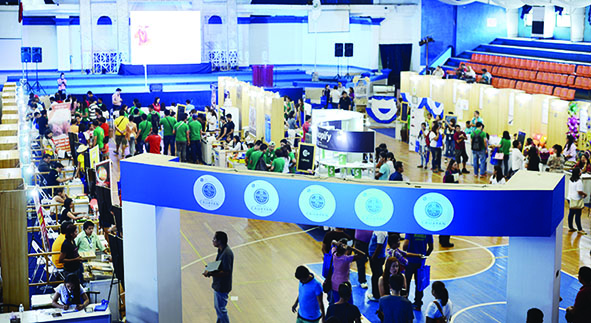 Small and medium businesses (SMBs) are getting more and more support in digitizing their operations so they can be more competitive not only locally but also globally.
Companies are introducing cost-effective digital solutions tailored for different industry needs. These solutions are also designed to help improve operations.
Globe myBusiness, the SME arm of Globe Telecom, has been at the forefront of equipping SMBs with business solutions to empower them. Apart from the different services it offers, it is also expanding its reach to SMBs located in various regions of the country that are showing growth in entrepreneurship and are willingly embracing digital.
"We recognize that the regions outside Metro Manila represent major opportunity and growth areas for the Philippines," says Martha Sazon, senior vice president of Globe myBusiness, during the first ever Globe "myBusiness Day" in Cauayan, Isabela. "And the ones really driving growth are the SMBs."
"We also believe that in order to reach the SMBs, there's no one size fits all approach," she continues. "There are different nuances and needs per town."
Entrepreneurs
"myBusiness Day" is the group's advocacy to encourage people become entrepreneurs. The activity is geared toward inspiring locals to start or expand their existing businesses. Apart from concerns in capital, setting up even a small business may look daunting. The objective of "myBusiness Day" is to help and encourage people to set up their own businesses.
Cauayan is the location of choice to jumpstart the advocacy because it is one of the cities that openly embraced technology. The province of Isabela is one of the first to adapt the Electronic Government Application System (eGAPS) and the Cauayan City Identification System. The local government's forward-looking approach in its own operations makes it Globe myBusiness' perfect partner for the advocacy.
Sazon continues to explain that, "Sometimes, entrepreneurs think that there's not much room for progress in the way they operate their business. They feel that only big enterprises can afford an to automate and digitize their processes, when in fact, part of our advocacy in embracing digital, is that one can be able to enjoy capabilities that are used to be enjoyed only by bigger companies."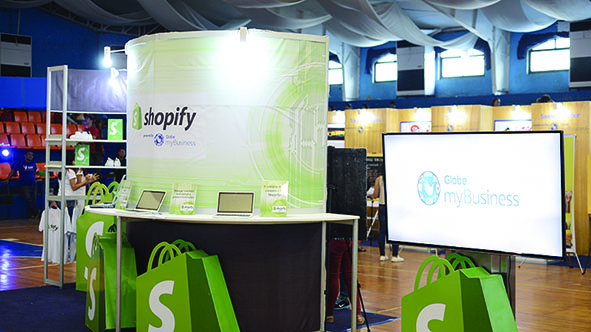 Globe myBusiness Day in Cauayan served as a one-stop-shop for business owners and potential entrepreneurs. The assistance it provided was not limited to introducing its products; it also pooled different sectors and government units to help educate the people. The learning sessions focused on the advantages of running one's own business and this include contributing to the local economy as well as providing jobs. It also featured franchising options if people still didn't know what kind of business they want to put up.
The activity also linked people to organizations and companies that they may need the services in the future.  There were booths for loan services, payment options, and Globe myBusiness' digital solutions.
Digital solutions
e-Commerce is fast gaining popularity in the Philippines. It may not have fully taken off compared to other Southeast Asian countries but gaining momentum this year.
Globe myBusiness partners with Shopify, a cloud-based, multichannel e-Commerce platform present in about 150 countries.
"Shopify is just one of our solutions that will help SMBs to simplify and professionalize their business operations," Sazon says. "About 50 percent of Filipino businesses are still traditional in approach; very manual in the way they monitor sales, inventories, and deliveries."
Anyone who has something to sell can open an online store within minutes through Shopify. Micro entrepreneurs can start their online business for as low as P429 a month. With a Shopify account, not only will they have a venue to sell their products, they will also have a consolidated dashboard to manage their inventory, track their orders and monitor their sales.
Aside from providing the platform, Globe myBusiness solutions also link up businesses to all the essential tools in professionally managing a business such as payment gateway and courier services.
Sazon emphasizes the need for SMBs not to catch up but to keep up with even large enterprises in terms of digital solutions.
Aside from Shopify, Globe myBusiness also offers myShopkeeper, a cloud-based sales and inventory tracking solution; Google Apps for Work, which provides businesses with custom email address; Canvas for digital business forms and receipts; and Globe Charge, a mobile card reader attached to a smartphone which allows entrepreneurs to accept credit card payments even when they are on-the-go.
"These digital solutions are great equalizers," she says. "SMBs can reach customers globally like large enterprises."
To know more about Globe myBusiness and their latest portfolio of digital solutions, visithttp://mybusiness.globe.com.ph, call its dedicated hotlines at (02) 730-1010 in Metro Manila and Luzon, (032) 401-1010 in Visayas and (082) 321-1010 in Mindanao, or email [email protected]. Follow the official Globe myBusiness Facebook page and on Twitter: @GlobemyBusiness.
Subscribe to INQUIRER PLUS to get access to The Philippine Daily Inquirer & other 70+ titles, share up to 5 gadgets, listen to the news, download as early as 4am & share articles on social media. Call 896 6000.