Commentary
Performance should not determine budgets
Past performance alone should not determine future budget levels. But a larger budget should be conditioned on the prospect of improved performance.
Consider the table below.
It contains the perceived performance of Department of Agriculture (DA) and Department of Trade and Industry (DTI); the actual performance of the agriculture and industry sectors in the first half of 2015; and the proposed DA and DTI budgets for 2016.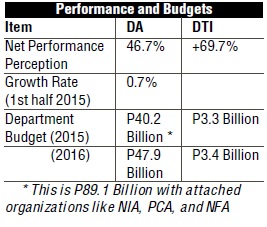 The table shows the net performance perception based on a survey of 67 Makati Business Club executives.
Since it is not from a random sample, it does not represent a national view. When you subtract the percentage dissatisfied from the satisfied, the result is the net satisfaction percentage. DTI has a positive score while DA has a negative one.
The actual growth numbers are based on official government statistics. Industry did much better than agriculture.
To be fair, agriculture bears the brunt of natural calamities much more than industry.
The proposed DTI and DA budgets are being deliberated on by Congress today. DA should get a much larger budget than DTI because of the nature and enormity of its work for the agriculture sector. However, new measures should be instituted so that the large DA budget will be optimally used.
We must guard against corruption attempts, especially considering the coming May 2016 elections. Budget monitoring by the private sector through the legislated public-private Philippine Council for Agriculture and Fisheries (PCAF) should be strengthened.
For the first time in DA history, private sector members of the PCAF Budget Committee will visit the provinces next week to monitor DA budget use. They will also propose more effective budget monitoring and evaluation mechanisms.
When an Alyansa Agrikultura member of this Budget Committee asked for a report on the DA pork barrel investigation, a senior DA official dismissed him by saying: "It is only politics." The private sector should no longer accept such answers.
Since the Agriculture Fisheries 2025 (AF 2025) Multi-stakeholders Conference on Feb. 10-11, 2011 was held, its unanimous recommendation of formulating and implementing commodity road maps was not systematically followed up.
The government think tank of Philippine Institute of Development Studies (PIDS) has received 29 industry road maps from DTI, but none from DA. The DA budget should be consistent with agriculture road maps so that budget use can be focused on the road maps' priorities. DTI does this, resulting in both perceived and actual improved performance.
How can the DA budget be used in this manner if there are no approved road maps? We understand that there are nine agriculture road maps that have been completed. But they have not been released, allegedly because a tenth is still being finalized.
These road maps must now be released so that the more important work can proceed. This work is what DTI has been doing for the last three years. It is to organize public-private sector teams that will plan, implement, and be accountable for accomplishing the road maps' objectives within a mutually agreed time frame. If DA does this, both perceived and actual improved performance will result from the large DA budget.
It was also unanimously recommended during the AF 2025 Conference that better management systems should be put in place at the DA.
Agriculture Secretary Proceso Alcala advocates the correct agriculture vision and works extremely hard to uplift the small farmers and fisherfolk. But his vision and work are sabotaged by unscrupulous elements in the DA bureaucracy. This can be largely prevented by a management system like the ISO 9000.
DTI takes this challenge very seriously. It has required most of its DTI units to implement this system. This system is reviewed periodically by outside management experts. If a DTI unit fails this periodic review, its ISO-accreditation is withdrawn. This is a major reason why DTI is successful.
Since most DA units do not have ISO 9000, there is no outside evaluation of their management system. If this system were in place, an added benefit is that corruption will be more easily detected. This is because deviations will surface automatically through this system, instead of having to rely on arbitrary reviews by officials.
The DA deserves the budget it is asking for. But increased budget release should be made conditional. We can learn from the example of the late Secretary Jessie Robredo. He made added releases to LGUs conditional to only those who earned the DILG's "Seal of Good Housekeeping."
DA and DBM should do the same. This way, mechanisms like road maps and management systems can provide the justification for increased budget releases which will more likely result in improved performance.
(The author is chair of Agriwatch, former Secretary for Presidential Flagship Programs and Projects, and former Undersecretary for Agriculture, Trade and Industry. For inquiries and suggestions, email [email protected] or telefax (02) 8522112).
Subscribe to INQUIRER PLUS to get access to The Philippine Daily Inquirer & other 70+ titles, share up to 5 gadgets, listen to the news, download as early as 4am & share articles on social media. Call 896 6000.