12 ways to survive holiday driving
(It's 12-12-12 today and though not really one of the special red-letter days in the calendar, the unique number combination challenged the motoring section to think of a dozen ways to make it worth remembering. Not that we believe it's going to be the end of the world as per the Mayan calendar, we just felt this is a good  time to do a series of articles with a special focus on the number 12.—Ed)   
Before the "Jingle Bells," "Silver Bells," "Carol of the Bells" and "Come on, Ring Those Bells" again become out of season, it would be wise to prepare ahead of the worst of the 2012 holiday traffic. Think of the city streets during Christmas season as a fat-clogged heart, where road users are like blood flowing to and from the diseased organ. Where the arteries have been clogged with fatty cholesterol after years and years of eating pork, beef, chicken and other LDL-laden foods, normal blood flow is slowed down and, at worst, grinds to a complete stop. Now that's another set of bells tolling. The same logic can be applied to traffic: Lifetimes of selfish habits have led to chaotic road conditions on urban streets, and try as they might, our heroic traffic enforcers are rendered powerless by a problem that has become systemic.
So, we begin by positing forth the best way to survive the enraging 2012 holiday traffic: Stay away from the roads as much as you can. But if you can't help it, well, here's how to cope:
1.) Plant this idea in your head, and let it grow: Pedestrians are the true kings of the roads. When they cross the pedestrian lanes, give way, EVEN if your light is green. Contrary to what your drunken uncle may have taught you in your formative years, the roads were built for people, not cars. Why? Because, in the event of a collision between your 2-ton SUV going 60 kph and that 140-pound pregnant pedestrian, who do you think will survive? To whom will the public and investigating officers lay their sympathies on? And who will spend the rest of their lives languishing in guilt over two lives lost? Inquirer Motoring, in a story published some years ago, reported data submitted by Dr. Harold Weiss of the University of Pittsburgh's Center for Injury Research and Control showing car crashes being the leading cause of hospital visits and fatalities during pregnancy. For unborn children, vehicular accidents are the leading cause of injury mortality, the frequency of which exceeds infant crash deaths several fold.
This also should present a fair warning to pregnant motorists, as well. Daisy Jacobo, traffic safety division chief of the Land Transportation Office, told Inquirer Motoring that pregnant women, especially during their last trimester, should minimize their exposure to driving situations—whether they be drivers or passengers. "She may be a careful driver but others may not be, so she must be a good defensive driver if she can't avoid being behind the wheels," Jacobo advised.
2.) Have you ever seen a headless motorcycle rider? If you have, you should a) be terrified enough to run to the nearest CR, and b) realize that only a headless rider has the right to be on a motorcycle with no helmet on. So, it cannot be emphasized enough: Wear your helmet when you ride your motorbike, even if your destination is just a block away.
While we're at it, let's push the safety envelope further: Don't let your kids ride shotgun with you completely unprotected. And no, sandwiching your toddler between you and your wife while you weave around traffic along Edsa or C5 will NOT save your baby from you and your spouse's stupidity.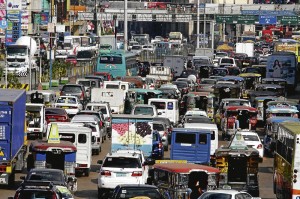 3.) We often wonder, with so many identifying marks tattooed around taxis, some drivers still get away with bloody murder. How do these demons behind wheels do it? With the passenger's help, of course. So please, if you're a female and alone, make it obvious that you're taking down the taxi's name and plate numbers, and then call somebody (even if it's just a make-believe call) and then say out loud the important information about the taxi. If the company or subdivision guard hailed the taxi for you, tell the guard—within earshot of the taxi driver—to take down the plate numbers and make/model/color of the car, and the name of the taxi. Criminals thrive best in anonymity. When they know they're marked, they'll pass for the next naive passenger.
And one more important reminder once you're inside the taxi: Lock all doors, and make sure all windows are rolled up completely.
4.) Ask yourself, as a commuter, what good will wearing expensive jewelry do you? Will the best-looking taxis with the hunkiest of drivers stop at your feet? Will the roomiest jeeps reserve the best seats for you? Will the bus conductor serenade you? No. What it will do is attract the attention of the lowest of the low-lifes, and you will become game to the cruelest pack of hunters you have ever seen. So, when you're not bringing your own car, better leave the body blings behind, and dress inconspicuously. Oh, and don't bring too much cash. Muggers can smell that a mile away.
5.) The overpass is not a national monument where the public is prohibited to set foot on, and where the guardia civil will shoot trespassers on sight. Please, for the love of common sense (and exercise), cross busy and major thoroughfares on pedestrian overpasses built precisely for that purpose. If you're wearing dark clothes and it's raining, you become nearly invisible to motorists when you cross the road. Now, if you use the pedestrian overpass naked, motorists couldn't care less.
Some will make the case that for certain unlit overpasses that may actually be more hazardous to your health, then let's arrive at a compromise—if you can find a well-painted pedestrian lane, then that's where you should cross the road.
6.) 'Tis the season to be jolly, and drunk. Every night, most likely between 10 p.m. and 5 a.m., always assume that there's a drunken maniac with your name on his or her car's front bumper. And it can blindside you. So, to survive a drunk driver's doing, just stay in wherever you are between these witching hours.
7.) If you can remember where you left your keys, then you can very well remember this life-saving pre-trip acronym: BLOWBAGA. It just means Battery, Light, Oil, Water, Brake, Air or tires, Gas and Accessories. These are the parts and mechanisms of the car you actually have control of. While you're at it, already include checking the tire rod and cleaning and properly positioning rear-view mirrors (you should be able to see at least 200 feet behind you, and you should see oncoming vehicles from the side, and not just from the rear).
8.) If you're a pedestrian and walking on the side of a highway, it's safer to walk facing oncoming traffic. Why? For example, a drunk driver is swerving left and right, and he or she is careening toward you at 100 kph. If your back is turned to the driver, would you have the chance to react? When you are a pedestrian, never assume motorists have got your back. So, face them, and give yourself that fair chance of survival.
9.) Keep something crucial to your survival in your wallet. And what is that? Information that would help your rescuers should you get involved in an accident and sustain serious enough injuries that you are rendered unconscious. And what information would this be? Blood type, for one. Contact numbers of your trusted family doctor is another. Maybe you have allergic reactions to certain drugs. Put all these clearly in a note, and put it in your wallet or purse.
10.) If you're a motorist, it would help to invest in the installation of a CCTV for your vehicle. A number of taxis and buses, in fact, are now equipped with either video or audio recording mechanisms, and sometimes even global positioning systems (GPS). Though it may not necessarily deter criminals from committing their dastardly acts (unless you wish to place a sticker on your car declaring it as equipped with CCTV), it will help immensely in tracking down the culprits.
11.) That early warning device is more important than you think. Why would the Land Transportation Office include it in a car's must-haves if it were not so? How many times have cars crashed onto the rear of stalled trucks because of the lack, or improper placement of, early warning devices? As a general rule, EWDs should be placed not immediately behind the stalled vehicle, but at least 100 meters away, giving enough time for speeding vehicles to slow down and change lanes safely. On a curved road, place the EWD before the road curves into the blind spot.
12.) Let your own car be your best ally to survival. It doesn't have to be high-tech, and the greatest lifesaver in a car has been arguably your trusted seatbelt. So, buckle up, folks.
But a little car tech certainly won't hurt. There are cars now equipped with rear-view cameras clear enough for the driver to see where he or she is backing up into even in the darkest of nights; headlights that swivel according to where the driver steers the car; brake systems that automatically stop the vehicle when the car "senses" it's about to collide with another car or pedestrian. Airbags have become standard in many midmarket vehicles. Pretty soon, cars will take the driving out of the hands of the driver completely. And everyone on board will become passengers to the perfect driver—the car itself. But between now and then, let go of that cell phone and keep your eyes on the road, hands on the steering wheel.
Subscribe to INQUIRER PLUS to get access to The Philippine Daily Inquirer & other 70+ titles, share up to 5 gadgets, listen to the news, download as early as 4am & share articles on social media. Call 896 6000.