Net 'hot' money inflow in Oct. down by 83%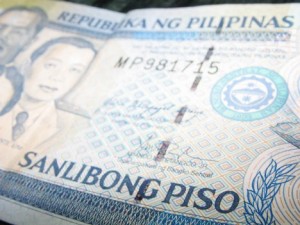 MANILA, Philippines—The net inflow of foreign portfolio investments to the Philippines shrunk in October due mainly to profit-taking by equity investors, according to the central bank.
Data from the Bangko Sentral ng Pilipinas showed that the net inflow of "hot money" in October amounted to only $40 million, down by about 83 percent from $237 million in the same month last year.
According to the BSP, investor appetite for peso-denominated portfolio assets remained strong in October, noting a significant foreign buying of Philippine stocks and bonds during the period.
However, it said, the net inflow of foreign portfolio investments dropped because the increase in the gross inflows was offset by the spike in outflows due to profit-taking.
"The net inflow was much lower as profit-taking triggered heavy sell-offs of publicly listed securities," the central bank said in a statement.
The gross inflow of foreign portfolio investments during the month reached $1.54 billion, up by 68 percent from $916 million in the same month last year.
However, the outflows grew at a faster pace of 120 percent, reaching $1.5 billion from only $679 million a year ago.
Foreign portfolio investment inflows during the month came mostly from the United Kingdom, the United States, Singapore, Switzerland and Hong Kong, the central bank said.
For January to October, the cumulative net inflow of foreign portfolio investments amounted to $2.66 billion, down by 22 percent from $3.45 billion in the same period last year.
The BSP said the level of foreign portfolio investments in the first 10 months was manageable. It said it was an indication that no threats of an asset price bubble in the securities market was in the offing.
Growth in foreign portfolio fund is welcome as this helps make the country's capital markets more vibrant, but monetary officials are concerned about the excessive flow of "hot money" because this could be destabilizing to the economy.
Unlike foreign direct investments, "hot money" easily comes and goes, and does not actually help create jobs. Excessive amounts of inflows and outflows could cause volatility in the exchange rate.
Subscribe to INQUIRER PLUS to get access to The Philippine Daily Inquirer & other 70+ titles, share up to 5 gadgets, listen to the news, download as early as 4am & share articles on social media. Call 896 6000.