The Beacon: A testament to good property development practice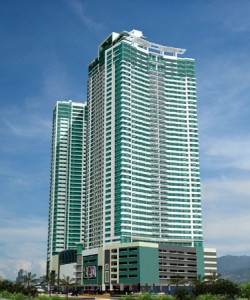 The Beacon is a three tower residential resort condominium project of Geo-Estate Development Corporation and the company's pilot project.
The high-rise residential community sits right smack on nearly a hectare of Chino Roces Avenue and Arnaiz Avenue in Makati City and boasts of also nearly a hectare-wide floor of amenities that includes an enormous lap pool, massage center, a jogging trail, function rooms, playground, and many more.
The Beacon is a well-thought-of project down to the concept, design, construction, and every little detail, taking into consideration the needs of the occupants in terms of living space and amenities, said Francisco Licuanan, Geo Estate chair.
The experience of condominium living has a trade-off because of space constraints, according to Licuanan. To compensate for the compact living space, the company set aside the remarkably big amenities area so that residents can have access to services.
The design of The Beacon also allowed the developer to offer affordable units that come fully-furnished already. Apart from a finish highlighted by big tiles, the kitchen is already fitted with a granite counter top, cabinets, range hood, and electric range, while the toilet and bath features a shower  enclosure.
"The Beacon started construction in 2007. It was one of the first projects to address the middle income market, particularly the office workers in Makati. The condominium projects then were addressing the upper income and upper middle income sectors; there was no affordable condominium housing for the middle income people."
As Geo Estate's pioneer projects, The Beacon is a testament to the experience and good practices in property development put all together by the owners of the company, who've had long careers developing properties.
Licuanan was the founding president of Ayala Land Inc. (ALI), where he was a leader for close to two decades. Two years after his retirement in 2005; he started Geo Estate, a new player in the real estate industry. The company also includes Miriam Katigbak as president and a team of experts.
"From location, to architecture, to design, to appointments, to costs, we've managed everything to make sure we satisfy the demands of both prospective investors and would be residents,"said Licuanan.
"Our big advantage is what we produce. We actually have a product that buyers can see. We can already show them what we have done," said Licuanan. "Our product is better for the same price category compared with other developments in the area. Buyers just do the comparison and they will come to a realization."
Geo Estate may be a medium-size company, but Licuanan said the good thing about the new developer is its capability to focus its energy on the project and to ensure the highest degree of quality control.
"Other developers are focused on selling, good advertising, and image. For a big organization, a project is just one of 50. Our organization is more keen on making sure the product is the best that we can produce. And we deal with clients on a more personal level."
Licuanan said he and his team do inspection of the construction of the building weekly. There's also the presence of a customer relations group who makes sure the units passed quality control before they're handed to buyers.
"We have a good quality control procedure. The customer relations unit acts on behalf of the buyers. Before the construction guys are though with a unit, these guys will do the inspection and find small things that were overlooked and fix those."
Two towers of The Beacon-Roces Tower and Arnaiz Tower- have already been sold out, with the first tower already turned over to owners. The next tower facing Amorsolo Street is already 40 percent sold and will start construction soon.
The Beacon offers amenities that people usually find in first class resorts and five star hotels; a 450 square meter resort-type swimming pool with 50 meter lap lanes, a kiddie pool, a 300-meter jogging trail, spacious  gardens which are perfect for those who seek an oasis, a gym massage rooms, children's play area, clinic, exercise studio, private theatre and even a Sky Lounge where residents can hold parties or intimate get-together, while at the same time enjoy the magnificent view of Makati Skyline.
Subscribe to INQUIRER PLUS to get access to The Philippine Daily Inquirer & other 70+ titles, share up to 5 gadgets, listen to the news, download as early as 4am & share articles on social media. Call 896 6000.