PSEi skyrockets to new record high of 4,880.71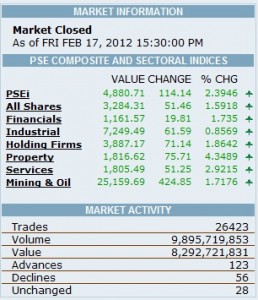 MANILA, Philippines – The local stock index skyrocketed to a new record high on Friday as favorable jobs and housing data in the United States encouraged investors to resume loading up on equities after a three-day slump.
The main-share Philippine Stock Exchange index closed at an all-time high of 4,880.71, gaining 114.14 points or 2.4 percent.  The local index also touched a new intra-day high of 4,886.99, surpassing the peak seen earlier this month.
This marked the local stock market's best single-day performance since Oct. 7, 2011 when it posted a gain of 3.1 percent.
"There was a spillover of positive sentiment into the Philippine market as favorable US data and some progress in Greece increased appetite for equities," said Manny Lisbona, deputy chief of PNB Securities. "We can expect some follow through buying in the next few sessions and should view corrections as opportunities to accumulate."
"PSEi at 5,000 is on the horizon. Earnings of issues are all encouraging led by PSE which may have a good dividend payout this year," said Ramon Garcia, president of local stock brokerage RTG & Co.
Hans Sicat, PSE president, added that hopes towards a second bailout for Greece as well as positive data on the US jobs and housing markets had boosted trading following tepid market movement in the past days.
"Strong corporate and local fundamentals have in turn pushed the market further as the gains we posted today topped the other market rallies in Asia," Sicat said on Friday.
A strong rally in Wall Street overnight provided a positive backdrop to Friday's trade.
The Dow Jones Industrial Average surged by 123.13 points to close at 12,904.08, the best finish recorded since May 19, 2008, or a few months before the US financial crisis that had brought down storied investment bank Lehman Brothers.
Global risk appetite was boosted by reports that weekly applications for US unemployment benefits dropped for the fourth time in five weeks to the lowest point since March 2008. At the same time, investors welcomed news of an increase in building permits which they took as a sign of a growing confidence on the property market.
All counters soared but the outperformers were the property and services sub-indices which respectively rose by 4.35 percent and 2.9 percent.
Value turnover amounted to P8.29 billion.
There were 123 advancers that overwhelmed 56 decliners while 28 stocks were unchanged.
By specific stock, the upswing was led by index heavyweight PLDT, whose shares surged by 3.4 percent to close at P2,858 per share.  Metrobank, Ayala Land, SM Investments, AGI, Ayala Corp., Megaworld, Globe Telecom, Robinsons Land, Cebu Air, Philez Mining and International Container Terminal Services Inc. also contributed to the PSEi's gains.
Investors also snapped up shares of Security Bank, Citiseconline.com, Philodrill Corp., Nickel Asia, First Philippine Holdings and GMA Holdings.
On the other hand, DMCI and JG Summit did not benefit from the upswing.  Also, Century Properties tumbled by 12.9 percent before trading was halted after announcing an equity deal priced at P1.75 per share or at a discount to market.
Subscribe to INQUIRER PLUS to get access to The Philippine Daily Inquirer & other 70+ titles, share up to 5 gadgets, listen to the news, download as early as 4am & share articles on social media. Call 896 6000.