Peso flat despite glowing 7.5% economic growth for PH in Q2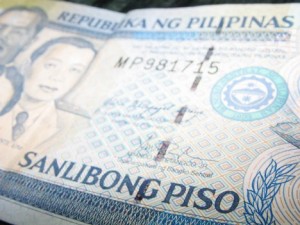 MANILA, Philippines—The peso closed flat on Thursday despite the release of positive economic data for the Philippines as investors shunned emerging markets amid worries over India's growth.
After posting gains in early trading, the local currency closed at 44.75-to-$1 on Thursday, the same level as Wednesday's close.
The peso's close came despite gains made by the local equity index following the release of data that showed the Philippines' gross domestic product expanded by 7.5 percent in the second quarter—matching China's growth that was the fastest in Asia.
"The growth has already been priced in by the market," BDO chief market strategist Jonathan Ravelas said.
Countering the optimism for the Philippines was Standard & Poor's announcement of a possible downgrade for India, leading to risk-aversion over Asian emerging markets.
The peso initially opened stronger at 44.60: $1 and appreciated further to 44.50: $1 before closing at its lowest point for the day. Trading volume declined slightly to $1.042 billion from $1.242 billion the day before.
Subscribe to INQUIRER PLUS to get access to The Philippine Daily Inquirer & other 70+ titles, share up to 5 gadgets, listen to the news, download as early as 4am & share articles on social media. Call 896 6000.