Metrobank nets record P18 B in first half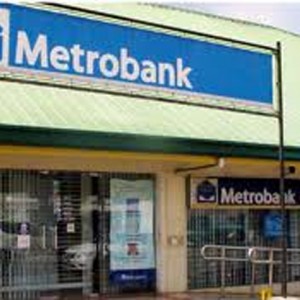 MANILA, Philippines—Metropolitan Bank and Trust Co. chalked up a record high net profit of P18.1 billion in the first semester, more than double the level a year ago and the highest ever earnings attained by a local bank.
The unprecedented profit level in the first six-months was driven by a combination of higher net interest earnings, treasury gains and one-time gains from the sale of interest in the car and power generation businesses of the George Ty group.
Total operating income for the six-month period expanded by P16.6 billion to reach P45.9 billion on the back of a 13-percent year-on-year rise in net interest income to P17.3 billion coupled with a P14.7 billion increase in non-interest income to P28.6 billion, the bank reported on Thursday.
Metrobank sustained its momentum by growing its loan book by 16 percent year-on-year to end the first semester at P545.8 billion. Credit demand was consistent across all sectors, with the consumer segment leading the growth, the bank reported.
Total deposits reached P876.6 billion, 32 percent higher year-on-year, predominantly from low-cost current and savings accounts. The bank reported a spike in deposits in the second quarter as excess liquidity in the financial system scouted for outlets.
Non-interest income was driven by strong earnings from treasury and investment activities of P14.3 billion, the steady increase in service charges, fees and commissions to P4.2 billion, and miscellaneous income of P10.1 billion.
Miscellaneous income included the one-time gain from sale of non-core assets, namely, Metrobank's remaining 15 percent stake in Toyota Motor Philippines Corp. which was sold in January 2013, and a 20 percent stake in Global Business Power Corp. which Metrobank subsidiary First Metro Investment Corp. sold in June 2013. "The transactions were done to strengthen Metrobank's capital base in preparation for Basel III implementation next year," the bank said.
By unloading non-core assets, Metrobank has beefed up capitalization in preparation for stringent requirements under the Basel 3 framework.
In a recent  interview, Metrobank chair Arthur Ty said the bank would be "ready to comply with Basel 3."
Meanwhile, operating expenses increased mainly due to manpower related costs, in particular the renewal of a three-year collective bargaining agreement with unionized employees. The bank also incurred an increase in miscellaneous expenses for taxes related to the sale of non-core assets.
Subscribe to INQUIRER PLUS to get access to The Philippine Daily Inquirer & other 70+ titles, share up to 5 gadgets, listen to the news, download as early as 4am & share articles on social media. Call 896 6000.