Peso stable despite market woes
Local currency said to fare better than those of other emerging markets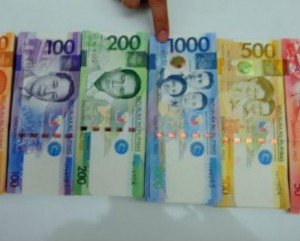 The peso remains relatively stable compared with other emerging market currencies as the country's various sources of foreign exchange have insulated the economy from external shocks.
The Bangko Sentral ng Pilipinas (BSP) said the peso was in the middle of the pack in a basket of currencies ranked by monetary authorities in terms of volatility.
The Chinese yuan, which is pegged to the dollar, was the least volatile with the average deviation to its value at 0.65 percent since the start of the year.
This was followed by the Indonesian rupee and Singapore dollar, at 0.91 percent and 1 percent, respectively. Other emerging market currencies ahead of the peso were the Malaysian ringgit (1.58 percent), and the Thai baht (1.90 percent).
The peso ranked 9th on the list of 17 currencies, with a volatility rate of 1.96 percent, BSP data showed.
Ranked below the peso were the Korean won at 2.3 percent, the Indian rupee at 2.72 percent and the Brazilian real at 3.31 percent.
"The regional currencies are more or less moving together," BSP Governor Amando M. Tetangco Jr. said earlier this week.
The BSP allows the market to determine the peso's underlying value. But from time to time, the central bank, through its open market operations, steps in and reduces the fluctuations in foreign exchange.
"We will continue with the forex policy we have now, as well as the monetary policy that we are following," Tetangco said.
The peso on Thursday closed flat at 43.43:$1, the same level as the day before. The peso traded stronger for most of the day, reaching a high of 43.28 and a low of 43.435. It opened stronger at 43.37:$1.
Trading volume improved to $1.36 billion from under $1 billion the day before.
BDO chief market strategist Jonathan Ravelas said the peso was normalizing after a brief spell in the 44-to-a-dollar level seen the previous week.
Subscribe to INQUIRER PLUS to get access to The Philippine Daily Inquirer & other 70+ titles, share up to 5 gadgets, listen to the news, download as early as 4am & share articles on social media. Call 896 6000.