Peso slides on news of bird flu, North Korea nuclear test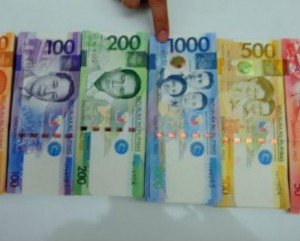 MANILA, Philippines—The peso continued its slide on the first trading day of the week as the bird-flu scare in China and Taiwan, and the nuclear program in North Korea bothered financial markets.
The local currency closed at 41.27 against the US dollar on Monday, down by 11 centavos from Friday's finish of 41.16:$1.
Intraday high hit 41.17:$1, while intraday low settled at 41.315:$1.
Volume of trade reached $859.8 million from $1.116 billion previously.
The depreciation of the peso came following reports that bird flu broke in China and spread to Taiwan. The health problem is seen adversely affecting the tourism industry and, if not contained, could drag economies.
Moreover, the fall of the peso and other actively traded Asian currencies came following reports of North Korea's preparations for a missile test.
Traders said the developments in the Philippines' neighboring countries have dampened appetite for assets in the region, including peso-denominated ones.
Subscribe to INQUIRER PLUS to get access to The Philippine Daily Inquirer & other 70+ titles, share up to 5 gadgets, listen to the news, download as early as 4am & share articles on social media. Call 896 6000.