Mercedes-Benz remains as official F1 safety and medical car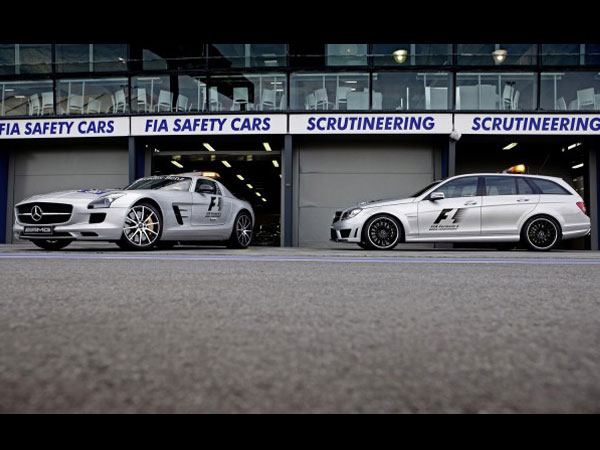 Mercedes-Benz is now in its 18th year as the provider of the Official F1 Safety Car and the Official F1 Medical Car. In the 2013 Formula 1 season, they are using the Mercedes-Benz SLS AMG GT as the safety car while the Mercedes-Benz C63 AMG Estate is used as the medical car. The season is not far gone since its opening at the Australian Grand Prix and the second race in the Malaysian Grand Prix.
The Mercedes-Benz SLS AMG GT and the C63 AMG Estate are not new here, both being high performance cars. The Mercedes-Benz F1 safety car is driven by Bernd Mayländer from Germany, with Pete Tibbetts from Great Britain as his co-driver.
Bernd is a former DTM driver and currently an instructor at AMG Driving Academy not to mention his role as Mercedes-Benz brand ambassador.
The Mercedes-Benz safety car is powered by the same 6.3-liter V8 front mid-engine in the standard SLS AMG GT producing 591 hp and 650 newton meters of peak torque while mated to the AMG Speedshift DCT 7-speed sports transmission. Differences from the standard SLS AMG GT are mainly on the roof light bar.
The roof light is placed on a special carbon-fiber hood which ensures the most efficient airflow over the rear aero foil, which automatically extends at speeds above 120 km/h. Permanent green is the signal for all Formula 1 drivers to overtake the Safety Car while flashing orange lights on the outer ends of the bar indicates that no overtaking whatsoever is allowed.
The Mercedes-Benz F1 medical car uses 6.3-liter V8 engine of the C 63 AMG and has the AMG Performance package and delivering up to 487 hp. The idea behind it is plenty of space in to allow for easy emergency response.
The car is driven by racing driver Alan van de Merwe from South Africa, with Dr. Ian Roberts from Great Britain as his co-driver. Roberts is the official FIA Chief Medical Officer.
In the rear, there are two assisting medical personnel from a specially selected clinic near the race track. There are two monitors integrated into the center console for monitoring the race and a radio set for communicating with Race Control.
Subscribe to INQUIRER PLUS to get access to The Philippine Daily Inquirer & other 70+ titles, share up to 5 gadgets, listen to the news, download as early as 4am & share articles on social media. Call 896 6000.