Peso still among strongest in Asia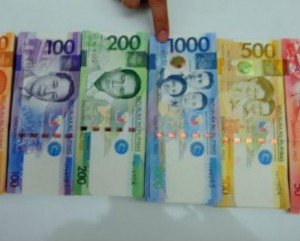 MANILA, Philippines—The Philippine peso remained one of the fastest appreciating Asian currencies in the first two months of 2013 on the back of a surge in foreign "hot money."
Closing at 40.66 against the US dollar on Feb. 28, the peso had strengthened by nearly 1 percent since the start of the year.
Data provided by the Bangko Sentral ng Pilipinas to the Philippine Daily Inquirer showed that the peso rose by 0.96 percent during the period, the second-fastest rate of appreciation among selected actively traded Asian currencies.
The Thai baht appreciated the most at 2.96 percent.
On the other hand, other Asian currencies depreciated against the US dollar amid suspicion that some central banks were deliberately causing their countries' currencies to weaken to boost exports.
The Indonesian rupiah weakened by 0.23 percent, the Malaysian ringgit fell by 0.91 percent, the Singaporean dollar dropped 1.08 percent, and the Japanese yen dropped 6.52 percent.
The continued rise of the peso as of end-February was attributed mainly to the surge in foreign portfolio investments.
The latest monthly data on foreign portfolio investments released by the BSP showed that gross inflow hit $2.8 billion in January, more than double the $1.2 billion registered in the same month last year.
The Philippines is attracting foreign hot money because of its favorable economic growth performance.
Subscribe to INQUIRER PLUS to get access to The Philippine Daily Inquirer & other 70+ titles, share up to 5 gadgets, listen to the news, download as early as 4am & share articles on social media. Call 896 6000.