Peso dips on news of slight increase in inflation rate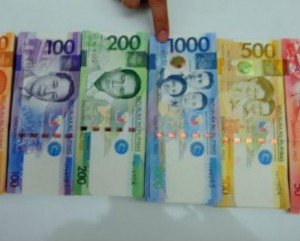 MANILA, Philippines—The peso fell on Tuesday after the government reported that inflation minimally rose in January.
The local currency closed at 40.645 against the US dollar, down by 5 centavos from the Monday's finish of 40.595:$1.
Intraday high hit 40.62:$1, while intraday low settled at 40.65:$1.
Volume of trade amounted to $740.4 million from $938.5 million previously.
The depreciation of the peso came following the release of a report showing that inflation settled at 3 percent in January, faster than the 2.9 percent registered the previous month.
Some economists said inflation might accelerate further in the coming months, although would likely remain within the government's target band of 3 to 5 percent.
Traders said inflation, which would reduce the value of investment yields, would be a key factor to be considered by fund owners in making investment decisions.
For its part, the BSP said inflation would likely remain below 4 percent this year but added it would implement measures should existing factors affecting prices change.
Subscribe to INQUIRER PLUS to get access to The Philippine Daily Inquirer & other 70+ titles, share up to 5 gadgets, listen to the news, download as early as 4am & share articles on social media. Call 896 6000.