10 brain twisters for motorists, pedestrians
Manila was named in 2012 the world's third-worst city for driving, as published in various online news portals, the source of which was CNNGo (CNN's travel website). MSN Autos also named Manila the 10th-worst city to drive in in the world, just faring better than Mumbai, Beijing, Orlando, Toronto, Seoul and the like.
Although the author made it clear that only the City of Manila and not the whole country was cited for inclusion into the "worst" list, it goes without saying that the driving conditions in Manila are naturally a reflection of the driving condition in any city in the country.
Here is the site's "short but sweet" description of the driving conditions in the city:
"Triple-lane changes, ignoring other drivers, never signaling, breezing through red lights … these are all things drivers can expect when in Manila, the Philippine capital. Others to keep in mind include using the opposite lanes of traffic to get out of traffic jams, honking your horn frantically and making left turns from the far right lane. Mix in terrible roads and less-than-perfect signage, and this equals a terrible, terrible brew."
Here are some of the confusing (and sometimes even downright dangerous) traffic signs (or lack of them), installations and road conditions we've encountered as Inquirer Motoring
navigated Metro Manila's web of roads:
1.) Concrete barriers/lane separators along Commonwealth, Quezon City, near Philcoa, and along Alabang-Zapote Road in Las Piñas. Brace for these "unannounced" dividers, and good luck to drivers new to the place and unaware of these concrete barriers/dividers (which have turned dark because of pollution). These dividers, especially along the Commonwealth stretch, are merely as high as the pavement and are easily submerged in shin-deep floods, significantly raising the danger factor even for drivers used to passing the area. Solution: Why not do it like they do along Ayala Avenue? Put steel railings on top of the concrete dividers, and put illumination at the beginning, along the middle, and at the end of the stretch of the divider.
Daisy Jacobo, traffic safety division chief of the Land Transportation Office, advises traffic officials in the area to install "advance road signs at least 100 feet from confirmatory signs."
2.) Potholes without warning. Picture this scenario: It's midnight, and you're driving on an unlighted street. Suddenly, a deep pothole with only a piece of propped-up plywood announces its presence directly ahead. You're driving straight into it at 60 kph, and you only have a few meters left. It's a sure trip to disaster. And don't think this trap is limited to motorists. Sidewalks, especially on a stretch along Daang Hari in Alabang near the Madrigal Business Park, also carry an exposed sewer line.
"I would like to see a radical reduction of these dreaded potholes since it always messes up the wheel alignment of my cars, and I have my cars' alignment religiously checked," says Francis Samonte, Toyota Auto Club Philippines chairman.
3.) Cluttered and confused. Eisele Buntua, a motorist and car enthusiast, complains: "Along Edsa, in the vicinity of Magallanes to Edsa Crossing, road signs, lanes and barriers are all confusing or have cluttered positioning. There's not enough time to figure out what info they're trying to relay, especially those going into underpasses or underneath the flyovers."
Auto and road traffic expert Alex Loinaz adds that the "Stop" and "Give Way" signs near or next to each other can be "pretty confusing," pointing to an area near the bus stop in Trinoma corner Edsa and North Avenue that puts both signs together. The same dual signs, he said, can also be found in the Subic Bay Freeport Zone. "The two signs mean different instructions to the motorist. Stop is the complete cessation of movement under any circumstance, while Give Way can either suggest you to stop or proceed cautiously without stopping."
4.) Deceiving for a living. Motorist Bel Sayson's Facebook post on Jan. 17 asked his friends to be careful when making a U-turn under Boni Serrano Avenue (near Camp Crame). Sayson warned that a confusing warning painted below the U-Turn sign would make motorists prone to a traffic violation.
Sayson explained to Inquirer Motoring that his concern was "swiftly acted upon" and that "the MMDA solved the predicament within 24 hours after my posting."
True enough, the MMDA's Jan. 17 post on its Facebook page read: "Regarding the post going around about (the) confusing signage at Edsa Santolan U-Turn slot and MMDA enforcers allegedly preying on motorists in that area, the matter has been forwarded to both Edsa enforcement heads and to Traffic Engineering Center. The signages will be modified to relay a clearer message."
And what was that misleading sign painted below the word "U-Turn"? In green paint similar to the background color of the sign was the phrase "Only from 5:00 PM to 6:00 AM." Naturally, Sayson explained, by the time the motorist reads the "fine print," the hapless driver would have been committed to the act, and it would have been too late to back up, and the MMDA enforcers at the exiting end of the U-Turn would have spotted the violator.
5.) No right on red. There are some intersections that explicitly warn right-turning motorists to wait until their light turns green before they can proceed. But does that mean that in other intersections where there are no such signs, right-turners can go at it anytime? This can be cause for heated arguments between enforcers and apprehended motorists. So, why not be uniform, eliminate the guesswork, and place signs of either "No right turn on red" or "Turn right anytime with care" on all major intersections?
6.) The road to nowhere. Wheel expert Sam Liuson stressed, "Authorities should seriously look into some lanes on Edsa that just end in the middle of a sidewalk (like the innermost lane southbound coming out of the Shaw underpass).
7.) The left-turn dilemma. On the progressive Bonifacio Global City, there are intersections that instruct left turners to turn left when the round green light is on. However, there are also some intersections that have separate stoplights for left-turning vehicles, as indicated in a green left turn arrow, and they are not synchronized to go green at the same time as the main stoplight. This might cause confusion among motorists, especially when left-turning lights are malfunctioning or are busted. A motorist who sees that he or she can turn left when the green light for motorists going straight ahead is on will naturally think that the next intersection's signaling rules are the same. When that motorist arrives at an intersection with a left-turn stoplight in place, and if that light is malfunctioning, he or she would assume that the round green light would also apply to left turners, dangerously unaware that the opposite lane had also been given the green and go.
8.) Too many lanes on the road. You'll notice it all the time: Highways and avenues in Metro Manila that have lane markings that leave lanes too narrow. What do our traffic officials think, that we all drive subcompacts? You can tell a lane has been marked too narrowly when even a six-wheeler truck can barely fit into the lane. Perhaps the DPWH can remeasure the roads and redo the lane markings accordingly.
And then there are the wide roads that literally end up getting narrow. Motorist and car show organizer Sophie de los Santos oberved, "We definitely need to improve on road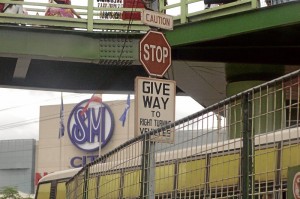 infrastucture planning. There are a lot of streets here in Manila where wide roads end up narrowing towards an intersection! Bad!"
Liuson noted that the Edsa-Magallanes-Pasong Tamo tunnel intersection needs to be redesigned a la Edsa-Quezon Avenue intersection.
9.) Into the dark. Brightly lit streets aren't only deterrents to street criminality, but also aid immensely in helping motorists safely navigate through the city at night. A vehicle's headlights can only illuminate so much space. Many areas of the visual periphery are left in the dark.
Motorist Rufi Parpan stresses the local governments should invest more on streetlights. "I'm not sure who exactly has control or responsibility over these but as our local politicians are moving on once again toward greater visibility, then let's have them put up more streetlights."
10.) Pedestrian-unfriendly sidewalks. Auto enthusiast Niky Tamayo laments, "It's obvious our sidewalks and elevated/sunken crosswalks were not designed by people who actually walk. Walking a mere four blocks in Makati every day, for example, is enough to give you buns of steel. Great if you're young, but for the old and the disabled, Manila is a terrible place."
Landscape architect/urban planner Paulo Alcazaren posted on Jan. 15 in his Facebook page a picture of a much-too-narrow walkway in an MRT station.
Alcazaren's post says: "What is lacking in most of Metro Manila is good urban design. We have mass transit but almost no thought is given to how commuters access terminals. A case in point is the MRT terminal near Robinsons Ortigas. Tens of thousands have to get from the malls and offices only to have to pass through space barely wide enough for one person. What were they thinking? Isn't it just common sense to allow sidewalks (to be) wide enough for the volume of people riding city transit?"
Alcazaren told Inquirer last Monday that "the ADB (Asian Development Bank) has plans to help address this problem."
Readers, show us your own brain-twisting encounters as a motorist and/or a pedestrian in your city. E-mail the author at tsalazar@inquirer.com.ph.
Subscribe to INQUIRER PLUS to get access to The Philippine Daily Inquirer & other 70+ titles, share up to 5 gadgets, listen to the news, download as early as 4am & share articles on social media. Call 896 6000.