Philippine stocks mark another high past 6,000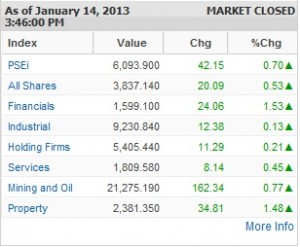 MANILA, Philippines—Local stocks marked new record highs breaching 6,100 in intraday trade on Monday as good prospects for the domestic and global economies this 2013 boosted investors' risk appetite.
The main-share Philippine Stock Exchange index hit as high as 6,115.18 before closing at 6,093.90 on Monday, adding 42.15 points, or 0.7 percent, from Friday's finish. This was the seventh record finish for the index this year and 68th record during the term of President Aquino.
All counters were up but the biggest increase was posted by the cyclical financial and property counters, which respectively jumped by 1.53 percent and 1.48 percent on good economic prospects for 2013.
Online stock brokerage 2TradeAsia.com said the conservative target for the PSEi would be at 6,500 within the near term. "Any dips should provide entry points, given the gauge's near oversold levels. Monitor downward movements, especially near 5,600-level," it said.
This upbeat forecast by 2TradeAsia.com is backed by an expected acceleration in economic growth.
"From an estimated 6.5 percent gross domestic product (GDP) growth for 2012, the economy will continue to be supported in 2013 by services (54.4 percent of GDP in 2011), specifically for trade, real estate, transportation, storage and communications sub-components," the brokerage said in its outlook for 2013.
"The wildcard would still be on agriculture (12.3 percent of GDP), which is subject to volatile weather conditions. For the demand side, improved household and government spending would help fuel expansion to 7-8 percent for 2013, especially with local elections in the initial semester of the year. Consumer spending will be aided by moderate inflation, plus influx of overseas Filipino worker remittances," it said.
Manny Cruz, chief strategist at the AsiaSec Equities Inc. said the surge to another new high might have been precipitated by an ongoing road show for Asean (Association of Southeast Asian Nations) bourses. "One of the top candidates is the Philippines because we're looking at an investment grade status and our market has been a top performer in the last few years," Cruz said.
Local stocks also gained ground from the expected resolution of the foreign ownership concern on industries, required by the Constitution to be 60 percent owned by the Filipinos, such as utilities like PLDT and property firms.
"Because of the pronouncement of the SEC (Securities and Exchange Commission), negative sentiment has waned, boosting play on PLDT, which was erstwhile a laggard," Cruz said.
The PSEi's rise to new record highs was led by ALI, MPI, Philex, BDO, BPI, Globe, Metrobank, Aboitiz Power, SMIC and SMDC.
Investment bank Credit Agricole CIB said Asian growth would likely strengthen in 2013 amid an improved global economic activity led by the US.  Asian economic growth has been seen to accelerate to 7 percent this year from 6.1 percent in 2012. Most Asian central banks might hike rates in the second semester of 2013 to address price pressures, Credit Agricole CIB said.
Across the region, stock markets were mostly higher on Monday due to optimism on China, which said it can increase quotes for foreign investment in its financial markets.
Subscribe to INQUIRER PLUS to get access to The Philippine Daily Inquirer & other 70+ titles, share up to 5 gadgets, listen to the news, download as early as 4am & share articles on social media. Call 896 6000.